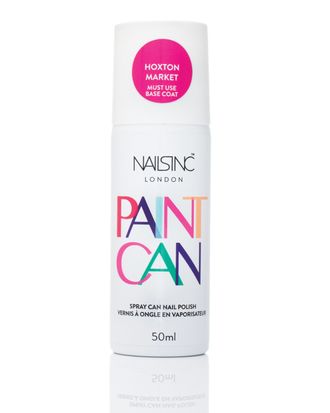 Growing up, I rarely, if ever, went to a nail salon. Instead I would treat myself to a weekly manicure in the comfortable confines of my bedroom. You'd think that after a year or so, I'd have the manicure skills of a pro, but I was a special case. Twenty years later, I finally found my groove: I could paint within the barriers of my nail bed, and learned how to maneuver my hands without smudging. A week later, Nails Inc.'s dummy-proof spray nail polish was introduced.
Paint Can is pretty much a dream if you're all thumbs, struggle with depth perception, or just never bothered to learn how to paint your own nails. You use it the way its name implies: After painting a layer of base coat, shake the can for a few seconds and then spray the formula directly onto your nails. The fragrance of chemicals, or a DuPont plant, wafts in the air during application, and the spray lands all over your nails, fingers, and the table below – so be sure to protect your furniture with a paper towel or two.
Within a minute or so, the nail polish dries and you can brush on a separate top-coat layer to complete your manicure. The minute the top coat dries, wash your hands. Even a small amount of soap and water easily rinses away the excess paint sprayed all over your hands. The entire process is wholly idiot-proof and fast. For reference, I finished my nails before an entire episode of The Mindy Project had completed.
There are a few caveats to the revolutionary nail system. For one, the polish doesn't last very long. One nail suffered a chip within the first day, and then three others joined it by the end of day two. Another is that Paint Can is only available in six colors: two pinks, an orange-red, a nude, and two metallics. The finish is less than elegant: It's fairly matte (even with a top coat), and it dries cakey in some areas. But in the short-term, it gets the job done. It's easy, but like anything, the easiest things often have limitations.
Nails Inc Paint Can, $12 at Nails Inc.