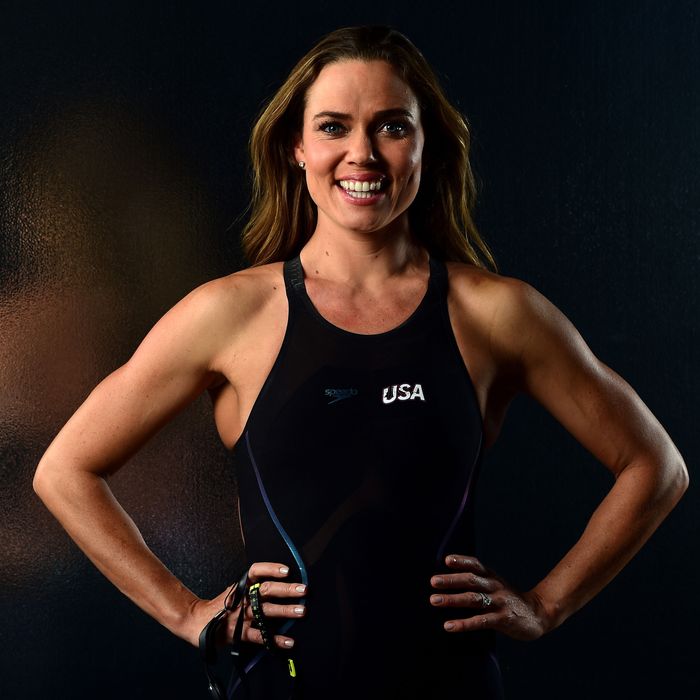 Natalie Coughlin.
Photo: Harry How/Getty Images
Natalie Coughlin is a 12-time Olympic medalist who's currently training in hopes of making her fourth Olympic team. In 2008, she became the first woman ever to win back-to-back gold medals in the same event (the 100-meter backstroke). The 33-year-old Californian loves to cook and garden. She talked to the Cut about her insane schedule, her twice-a-day smoothie habit, and always having wine with dinner.
How I start my day: If it's a morning that I'm swimming, which is four mornings a week, I get up at about 4:15 and immediately start my coffee and get my breakfast going while getting ready. It's all about multitasking at that point. I'll often have whole-grain oatmeal or farro with dried fruit or banana and chopped almonds. Usually I prep that on Sundays and I keep a big container in the fridge so all I have to do is heat it up.
I'm at the pool at about 5:15 and that's when I start my prep work including Pilates, yoga, abs, shoulder exercises, and back exercises. It's all body weight and maybe some bands. I do that up until 6 a.m. and then I get in the pool. We train in the water until about 7:45.
On second breakfast: I drink a smoothie on my way home. It's really important to get some nutrition in during that first half-hour after practice. It's almond milk, frozen dark cherries, chia seeds, almond butter, and maybe a little banana. I prep that and keep it in those double-vacuum, stainless-steel thermos mugs. Then I come home and have breakfast, which usually is eggs and maybe some leftover rice and avocado or something like that. Second breakfast, yes — very important.
Then I train some more: After breakfast No. 2, I'll usually go through e-mails, take a nap, and have lunch. Then I'm back at the pool at about 12:30 to lift for 90 minutes. Immediately after that I'll have another smoothie and get in to swim for about another 90 minutes to two hours. After my swim in the afternoon, I come home and prep dinner. I have dinner pretty early, like around five or so. And then I go to bed.
That double-swim schedule is on Monday and Friday. On Tuesday, Wednesday, Thursday, and Saturday, I lift and only do one swim. Outside of swimming, I love going on walks with my two dogs. I live in Northern California so we have all of these great hikes and really beautiful trails that I like to take them on.
On my mini-farm: I like to spend a lot of time in my garden. Right now I have a lot of figs and aprians, which is like an apricot-pluot cross. I have a lot of vegetables, so collard greens, kale, various herbs, and tomatoes. I grow a ton of citrus.
I have chickens, so I don't need to buy eggs, which is great. I saw it as the next step of gardening. They provide really great manure and they're very easy to keep. You just keep them protected from things that want to eat them and give them food and water. And they give you an abundant supply of eggs.
My typical dinner: It varies quite a bit. I focus a lot on getting plenty of vegetables, which is really important with all of the training that I do, you want to get plenty of antioxidants and things that help repair your muscles and keep inflammation down. That in addition to protein. I choose the protein first, whether it's plant-based or animal-based, then build the meal around that.
My meal-planning hack: I have all of my favorite recipes saved in an app, Paprika. If I'm at the grocery store thinking "What do I need?" I go in there. Once you save recipes, you can make a grocery list out of them. It's been really helpful for meal-planning. I can plan my meals for the week so I don't have to go to the grocery store after practice when I'm exhausted and ravenous. It's really good to avoid food waste, too.
On wine: We have wine with dinner every night. It fits within a healthy lifestyle and it also adds a lot of enjoyment to that dinner. That's something my parents always did. It's very much part of the meal. You don't have to beat yourself up all the time to eat healthily.
My favorite treat: I have dark-chocolate-covered almonds every day. Other than that I'm really not much of a sweets person — if I were going to indulge, I would much rather have a big plate of pasta. But dark-chocolate-covered almonds, especially the ones that have a little sea salt on them, ugh, they're so good.
How I end my day: I have this device called the NormaTec. It's a compression device that helps with recovery. It squeezes all of the blood out of your feet, calves, and quads and really promotes good circulation. It's like a massage. I'll hook myself up to that and watch a little bit of Netflix or whatever show with my husband and then pass out afterward. It doesn't take much for me to wind down because I'm usually pretty tired.
To me, wellness is: I think it has to do with balance and planning ahead. It's a lifestyle. I'm pretty active throughout the day, whether it's training or just normal life, and I kind of treat my body as something sacred. I really look at food as a fuel, but I also look at it as something that can be very pleasurable. That's why I love cooking so much because it really helps me in my athletic endeavors, but if I spend a little extra time working on flavors with various herbs and spices, you can take something that's very necessary and make it enjoyable as well.
My wellness advice is: If someone wants to make a big lifestyle change, I would say get your diet in order first. Get yourself used to eating healthily and really taking care of your body in that way. Once you're comfortable with eating healthily, that's when you add in exercise. I think if you do it all at once you're kind of setting yourself up for failure. It's just too much.
We all have to eat throughout the day and changing your diet is where you see the biggest changes. People think it's going to the gym four hours a day and it's not. If you make the right choices in the kitchen, that's where you're going to see the biggest results in terms of overall health.
This interview has been edited and condensed.