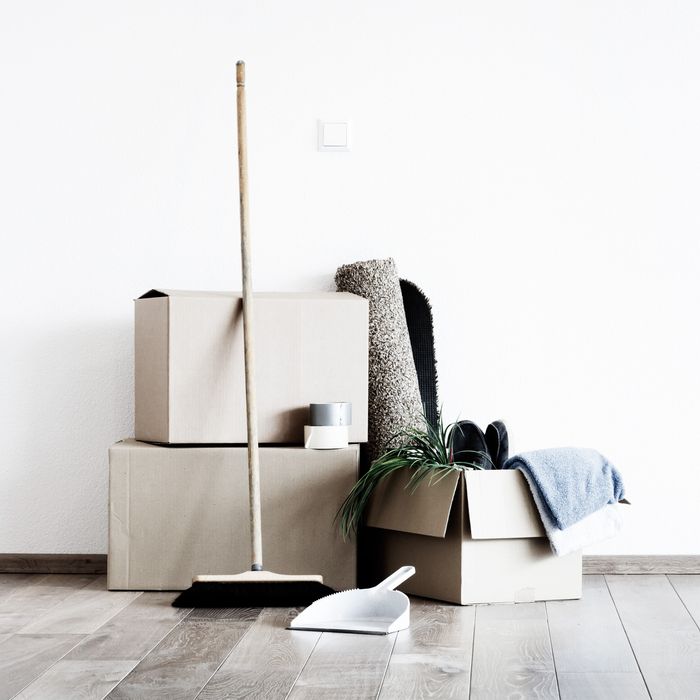 Photo: Photomotive/Getty Images
New York's Sex Diaries series asks anonymous city dwellers to record a week in their sex lives — with comic, tragic, often sexy, and always revealing results. This week, a 21-year-old recent college grad pondering life with her boyfriend. 21, straight, Greenwich Village.
DAY ONE
10:27 a.m.: I wake up to a text from The Boyfriend saying "Baby. I'm sorry. Slept in. On my way now." I roll over and respond in a daze. I had asked for his help packing and promised to make it worth his while. When he responded to that with a wink face, I knew he was expecting sex, or at least some head. It's been a while.
11:29 a.m.: The Boyfriend is nowhere to be found, and I am getting hungry. He was supposed to show up at ten with coffee and breakfast. My blood sugar is low, and it's killing the small semblance of a sex drive that I have left. I don't even know if you could call it a drive: It's more like a selfless sense of sexual generosity. This problem arose a few months ago and has only gotten worse. I thought it was just the stress of a big life transition but have concluded that it's my birth control.
11:45 a.m.: The Boyfriend shows up with a coffee and an apple (inspired by Christian Bale's Machinist diet). I cast the fruit aside and continue packing. The rest of the afternoon is remarkably unsexy as we sort through everything I own, divvying it up into piles: pack, trash, and donate.
2:24 p.m.: We load up the car full of home goods: a rug, some lamps, chairs, curtains, etc. Lastly, we lug a heavy old dresser out to the driveway. I'm sweating and sex is the last thought on my mind. We head over to The Boyfriend's house and unload the furniture. He gets ready for a night out with his brother.
8:47 p.m.: I return to my apartment and meet my best friend, Bookworm. She's helping me pack, too. Bookworm is a total nerd and loves productivity and time management, which makes her a grand motivator. I finish one task, and without missing a beat, she'll ask what's next. We decide to tackle the bedding, since I plan on spending my last night in town at The Boyfriend's house. I climb up the frame of my loft bed and begin stripping the sheets. Ever-so-eager Bookworm yanks my pillows to the floor, and my dildo falls down with them, landing with a thud on the floor. Bookworm's a virgin. She laughs nervously. I grab it and bring it to the sink to be washed. As I hold it in my hands, I realize it really has been a while.
11:12 p.m.: The boyfriend is at an A$AP Ferg concert. He sends me a Snapchat of the opening act singing Ginuwine's "Pony," a song I love to have sex to, thanks to Magic Mike. I recall the best cowgirl sex I ever had — or maybe the best sex I ever had, period — on a small motorboat off the coast of the Jersey shore. The Boyfriend pulled my bikini to the side and let me ride him on the open water.
12:28 a.m.: The Boyfriend comes to pick me up and bring me to his house to sleep over. It's our last night together. At this point, Aunt Flo's pretty much gone. In the car, I tell him I need to take a shower. He knows what I mean.
12:40 a.m.: Apparently I'm not the only one using the guys' house for temporary housing during move-out time. The Pixie, a girl too cute to be friends with anyone's man, otherwise known as The Boyfriend's friend, is crashing on their couch. Her room, unfortunately, shares a wall with the bathroom, and The Pixie is already asleep. We take the quietest shower ever. Sex is a no-go.
1:01 a.m.: In lieu of drying my hair, I put it in dopey Dutch braids. I wear his baggy clothes to bed. I couldn't be less sexy if I tried. The Boyfriend is lying on the bed in his underwear. He pulls his cock out and grabs it, looking at me. "Suck my dick," he pleads. I tell him he needs better timing with these things. "Tomorrow," I promise as I slip into the sheets.
DAY TWO
11:34 a.m.: We sleep in past the alarm, and I wake up looking even dopier than I did the night before. My plan was to hit the road by two o'clock, and we said we would grab breakfast before we finished packing. Morning sex was not on the agenda. I get ready in a rush, throwing on spandex shorts. He slaps my ass with a moan. We leave for breakfast.
2:14 p.m.: The car is packed to the brim. My final errand is to exchange a gift at the university bookstore. The Boyfriend accompanies me, to say our last good-byes at school. Upon exiting the store, I discover a dent in my car, evidence of a mistake committed by The Boyfriend last week. A fight between us ensues because my father will kill me if I return the car with damage. This is what our steamy-22-year-olds romance has been reduced to: vehicular damage, silent showers, lugging dressers, and repainting old kitchen cabinets. At some point, we became adults. I'm determined to rediscover the raging hormones of my teenage self.
6:42 p.m.: I scan the road for cute guys. Is my sex drive returning, or is it just The Boyfriend who keeps it at bay? Was I just bored? Is this what it feels like to be in a sexless marriage? I'm too young for that.
8:37 p.m.: The Boyfriend is drinking with a big group of friends and has plans to go drunk bowling afterward. I'm missing out on all the fun. This is our life now, I think. We've been together for almost two years, and we're going to be long-distance for the summer while he's in Maine and I'm home with my family in Westchester. After that, he's got a job lined up in New York… and I'm still hoping to find one. This is the long haul. Yikes.
10:17 p.m.: After arriving home and having dinner with the parents, I hit the local diner with Curly and Mo. Curly is one of my best friends from home, and Mo is her co-worker at the gym. "I decided I'm going to stop taking the Pill," I tell them. "I am going crazy. I am anxious. I'm depressed. I never sleep anymore. I'm tired all the time even when I do sleep. My skin is itchy. I have bad dreams. I have severe mood swings, and I start fights with everyone. I didn't get my period at all last month, so I thought I was pregnant, and then I got it really bad this month. Plus, I have no sex drive. At all." They asked how long this had been going on. "Since we switched insurance and I decided to go on the generic because it was cheaper. My sister switched, too, and she said the same thing happened to her." Mo says the generic is the Devil and that the same thing happened to her.
DAY THREE
12:54 p.m.: I get out of the shower, and my phone rings. It's a potential career connection I was hoping to network with. The job hunt has been really difficult. The caller is totally discouraging. I hang up, my spirits in the gutter, and call The Boyfriend. The distance between us seems greater than ever. He starts his job in two weeks.
3:04 p.m.: The Boyfriend made me a playlist of a bunch of hate-the-world pop-punk anthems. I sing along as I clean out my old room, finding high-school relics like National Honor Society pins and hidden report cards. The room reminds me of high school, specifically my high-school boyfriend. Let's call him Surfer Dude. His height is marked on my doorframe, and there's a shoebox under my dresser full of our memories. As I clean, I keep finding clothespins everywhere — evidence of our BDSM fun. We used to have wild sex, tying each other up, playing with pain and humiliation, dominance and submission. Sex was a game to us, purely for fun. And we had it every day.
DAY FOUR
2:44 p.m.: Not much is happening today. I volunteered to run errands with my parents. I'm at the farmers' market, and a strange guy with dreadlocks in the greens booth keeps making eyes at me. There is a part of me that yearns to go say hi—not because I'm attracted to him, just to have something new in my life. The Boyfriend is at a family party and is not answering my texts.
DAY FIVE
3:58 p.m.: My room is still a mess. I'm watching Friends. The Boyfriend and I are discussing his favorite pair of my underwear. He says he likes the white ones that make me look tan: He says the lace on the back is sexy, but the lack of lace on the front makes me look innocent, like I'm wearing plain white cotton panties with a little pink satin bow.
4:12 p.m.: The Boyfriend sends me a Snapchat message: "show me those lips." I know exactly what he's doing and what he wants. I send him a picture of my lips, showing just the tips of my two front teeth, my mouth slightly open, as if waiting for something, begging. He says he wants to hear them smack. I send him a clip of me puckering and smacking my lips, the same noises he might hear if I was drooling all over his cock. He's asks me to make him come. I send him a clip of me sucking on my fingers, making eye contact with the lens the whole time. And that's all it takes. I receive a text that says "my phone literally died as I climaxed. sorry I didn't get to send you the pay off. that is seriously the most I have cum ever. you are so f*cking sexy. thanks for being sexy for me."
6:48 p.m.: I head over to my friend Carolina's house for her sister's birthday party. As it gets later in the night, her parents begin to be more affectionate with each other, throwing endearments back and forth. All of the onlookers are melting. Carolina's parents said several couples attending their wedding broke up after the ceremony. That's the kind of love they shared — love so good it could extinguish weaker flames. They said they handed out party favors at their wedding that said, "It's too late now." Maybe that's what I need: A sense of humor about commitment.
10:06 p.m.: I meet a friend for drinks at a local bar. It's a Sunday night, and we are soon to be the only people there — us, and the ever-so-sexy bartender, Phil. People like Phil make me curse monogamy.
11:13 p.m.: We're in the same bar where I had enjoyed my first date with ex-boyfriend Portuguese Dreamboat. We met on New Year's Eve, kissed at midnight, and a month later he was saying "I love you," meeting my parents, and planning a summer trip to Portugal. Did I mention we had nothing in common and there was a language barrier? Needless to say, I broke it off before Valentine's Day. It's a shame, though, because the sex was fantastic. I decided to get back together with The Boyfriend because love trumps sex every time.
DAY SIX
1:52 p.m.: I go to visit my old bosses from last year's summer job to see what they're up to and if they need any help. One says I look great, that I look happy, and I realize I am. I don't know how or when that happened.
2:32 p.m.: They put me to work. Suddenly I'm on the payroll and the stress of finding a job was somewhat alleviated, at least for the summer.
6:43 p.m.: My dad is stressing out about local politics, trying to get the dogs out for their evening walk, and hurrying to get to CrossFit as soon as possible. He's starting to shout at us, but my mother tames him and he leaves. I ask her if all men are stubborn and set in their ways, and she says my dad's "a peach compared to most." Which reminds me that The Boyfriend is pretty sweet, too … and juicy.
11:57 p.m.: I consider finding that dildo. I reach into my panties and feel how wet I am. This is a good sign that my body is recovering from the drought.
DAY SEVEN
10:36 a.m.: I wake up this morning from a dream that The Boyfriend and I were in the basement of a school library, in the stacks, making out ferociously against the shelves, running from the authorities, with a kind of reckless teenage abandon. We were laughing and holding hands and shushing each other hysterically between kisses.
10:41 a.m.: I call The Boyfriend to tell him about my dream. He says, "I can't wait," and it feels like an awakening.