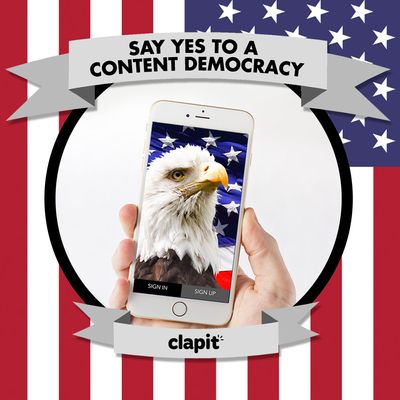 Photo: Courtesy of Clapit
Before Instagram changed its algorithm, and Facebook began hand-picking the news, there was a simpler time when news became popular without the help of an algorithm. Thankfully, there's a new social-media app to revive that time — and find a new model at the same time.
Clapit, launching on May 25, crowd-sources the best stories across all social-media platforms and pushes posts based on how many other people have liked (or "clapped") it. The posts with the most claps go into a global feed, allowing anyone, regardless of their platform preference, to see what is trending.
To kick off their launch, Clapit is partnering with MuseModels to launch a model's career via the app. To enter, upload a minimum of five selfies (come on, you know you have a repertoire of 20) and use the #makemeamuse filter and hashtag. The 25 entrants with the most claps will be reviewed by a panel of judges, hopefully in America's Next Top Model style. It's definitely more legit than the guy who slides into your DMs promising that he's a modeling agent. Clapit is available in the App Store beginning May 25.