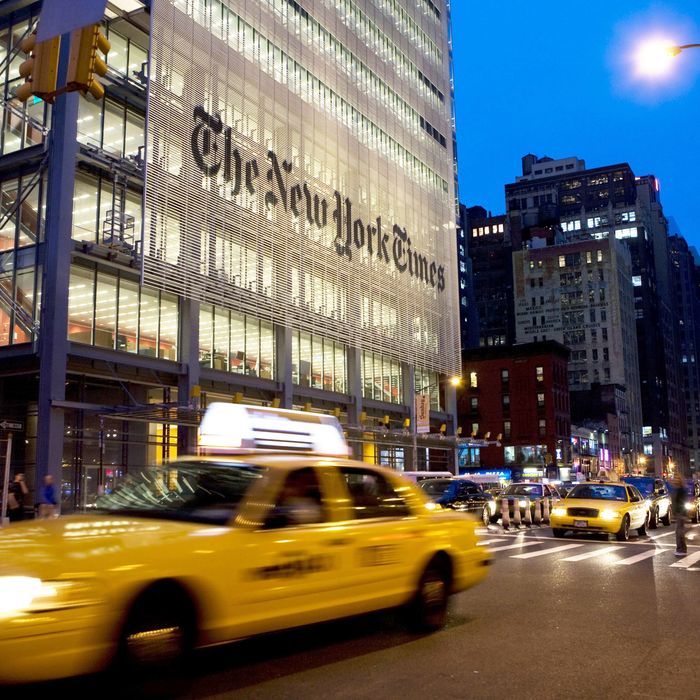 The New York Times.
Photo: Jonathan Torgovnik/Getty Images
The media has one of the biggest gender pay gaps of any industry, and the New York Times certainly isn't an exception. Among the company's union-represented employees, it pays women 7 percent less than men, according to a report released on Thursday by the New York NewsGuild. And it's even worse for employees of color: They earn 10 percent less than the average wage.
Women at the New York Times are underrepresented in several categories — reporters, critics, and graphics editors — with men dominating the highest-paying jobs. Women who have worked at the company for more than 20 years face the biggest pay gap, earning 89 percent of the average pay for men, while women with 6 to 20 years of experience at the company face a 2 to 4 percent wage gap.
Only 22 percent of Times employees are people of color, and the wage gap varies depending on race and ethnicity: Latino workers made 84 percent of average pay; African-American, 89 percent; white employees, 103 percent; and Asians, 98 percent.
The report comes on the heels of several former Times employees filing discrimination lawsuits against the company, for sexism, racism, and ageism.
After the Guild met twice with the New York Times last week, presenting and discussing its findings, senior managers at the Times said they're "taking the report seriously," but argued that more data is necessary "to understand the situation," because the report didn't factor in education and previous experience. In fact, the New York Times would like to conduct its own study — but can't say when.
"We believe that we can perform a thorough analysis so that we can all gain a better understanding of the current state of affairs, but will need a good deal of time to gather information and to verify all data points," said Terry Hayes, senior vice-president for labor relations. "When that data is considered it may be that the Guild will have to reconsider its numbers."
Or it may be that this report was right in the first place. Frustrating, right? New York NewsGuild president Peter Szekely said the Times' response is a step in the right direction, but argued that studying other factors can't "explain away or justify the pay gaps. More likely, it will just show how the disparities originated. We're still going to have to work on closing the gaps."
Consider the equal-pay primer here.