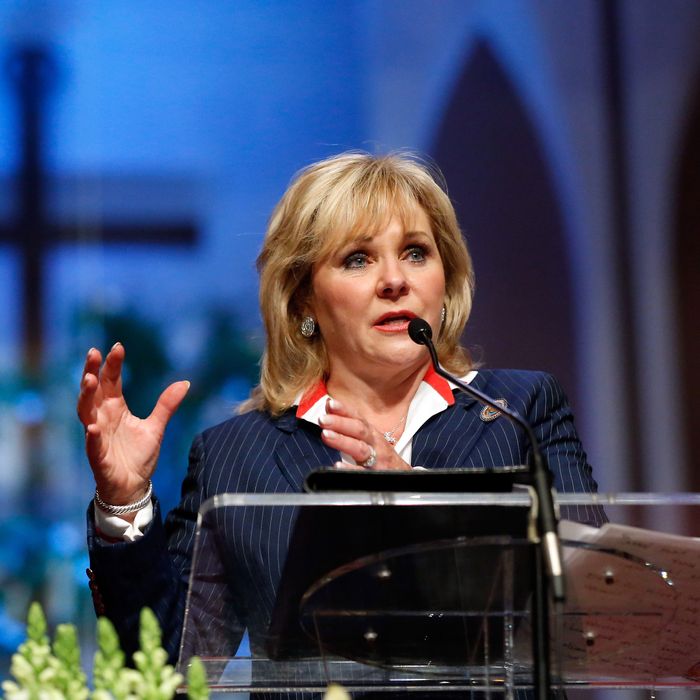 Governor Mary Fallin.
Photo: Pool/Getty Images
A bright spot in the war on women's reproductive rights: Today, Oklahoma Governor Mary Fallin vetoed a batshit anti-abortion bill that would have effectively banned abortion at any stage of pregnancy unless it was necessary to save the mother's life.
The bill would have targeted doctors who performed abortions, making them subject to a felony charge punishable by up to three years in prison and affecting their ability to get or renew a medical license in the state.
Governor Fallin bragged in her veto message that while she has signed more than 18 pro-life and pro-family bills, this one would have been unconstitutional. But she also said that a pro-life agenda will be better served by appointing a conservative justice to the Supreme Court:
While I consistently have and continue to support a re-examination of the United States Supreme Court's decision in Roe v. Wade, this legislation cannot accomplish that re-examination. In fact, the most direct path to a re-examination of the United States Supreme Court's ruling in Roe v. Wade is the appointment of a conservative, pro-life justice to the United States Supreme Court.
If you're pro-choice and still considering not voting in November, consider this your wake-up call.