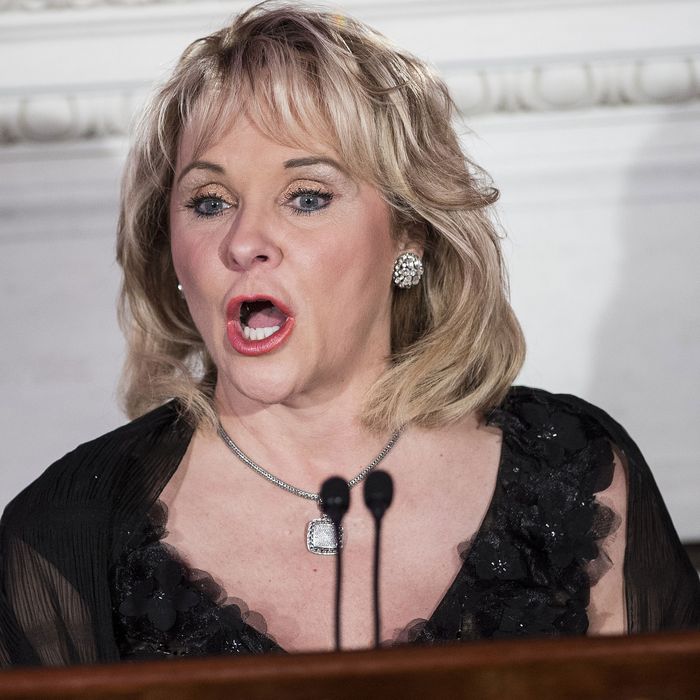 Oklahoma governor Mary Fallin.
Photo: BRENDAN SMIALOWSKI/AFP/Getty Images
The Oklahoma state senate has passed a bill that would make it a felony for doctors to perform abortions, except in rare circumstances. It now goes to Governor Mary Fallin's desk.
A doctor who performs an abortion at any point in a pregnancy for any reason beyond saving the mother's life or removing a miscarriage would be subject to a felony charge punishable by up to three years in prison. There are no exceptions in the case of rape or incest. Doctors who perform abortions outside of these circumstances would not be able to get or renew a medical license in the state.
The Center for Reproductive Rights says it's the first bill of its kind in the nation. State Senator Nathan Dahm, the Republican sponsor of the bill, said he hopes the bill leads to the overturning Roe v. Wade, which legalized abortion in 1974. Governor Fallin has not yet commented on the legislation.
On Tuesday, South Carolina passed a bill that would ban abortions beyond 19 weeks and punish doctors with the same felony charge and a $10,000 fine. It grants exceptions for the life of the mother or if the fetus has an anomaly that means it would not survive after birth. Oklahoma's bill — which restricts abortion at any stage of pregnancy — is much, much worse than South Carolina's terrible one.
Dawn Laguens, executive vice-president of Planned Parenthood Federation of America denounced the bill in a statement obtained by the Cut. She writes:
Oklahoma has done away with all pretense, and passed a bill to ban abortion outright, punishing women and doctors in the process. We've seen what this means for women forced to drive hundreds of miles or cross state lines for an abortion. Governor Fallin must protect Oklahoma women and veto this bill.

Unfortunately, while Oklahoma is the most extreme we've seen, this is part of a national agenda to outright ban abortion. We've seen it manifest in laws in Indiana and Utah. This cannot be the future our daughters inherit.