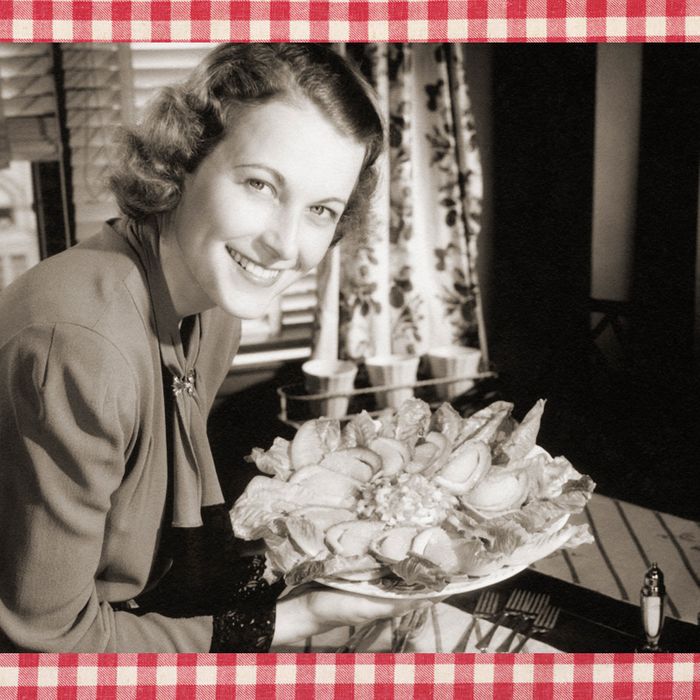 A weeklong series on the art of entertaining, for women who are too busy for Pinterest.
My mother bequeathed to me a shaky relationship with alcohol, lifelong struggles with intimacy, and an absolutely kick-ass app recipe for any party.
I'm not kidding: Weeks in advance of any occasion — my daughter's birthday, Thanksgiving, whatever — people start emailing and texting, asking me to make the balls. And I always, always make the balls.
My mom was a great cook, but she wasn't fussy or fancy. Holidays for us always involved crowds larger than 15, so she stuck to the classics. Her stuffing was basic but phenomenal. Her roasts and meatloaves were so good that, if she came back to life and appeared in front of me right now with one or the other, I would give up a decade of vegetarianism to take a bite. My mother knew, better than any person I've ever encountered, how to focus on the things that mattered in a meal, and how to let the rest of it go. She had good linens and silver that she forced us to polish, but she wasn't pedantic, and she never seemed to struggle. She did not martyr herself in the kitchen, and she always joined us to eat.
I was midway through my 20s before I contemplated "entertaining" people with more than a party ball or a box of Franzia, and I started out poorly. I attempted too many complex cakes; it took forever to find a vinaigrette that I loved; I never came close to mastering fondue.
And I've always struggled with apps. Appetizers, the kind where you're not seated and ordering at a restaurant, present a series of problems that need to be solved. They need to be bite-size. They can't be messy. They should be something one can hold in one hand, because nobody wants to be wandering around with a plate, a bunch of huge apps, and a fistful of napkins.
It wasn't until one day at my aunt's house, about two years after my mother had died, that I found what I'd been looking for. My aunt brought down a giant box of recipes that had belonged to my grandmother. She had also recently passed away, so we were in the process of splitting up, copying, and sharing some of her better-known dishes. Among the scraps, I found a tiny trove in my own mother's handwriting. My grandma was my mother's ex-mother-in-law for the last 15 years of her life, but it wasn't a huge surprise to me that she'd kept the recipes. Like I said: She was a great cook.
For reasons too complicated to explain, I hadn't inherited any of my mother's cookbooks or recipes when she died. In fact, when she died, I walked away from her life with almost nothing physical: Only my memories remained. But over time, her things started drifting back toward me. Other family members sent long-saved photos and items, knowing what they would mean to me. And I had, ridiculously, always harbored the hope that somehow I might someday encounter the recipe for the balls.
And so it was, in 2009 or 2010, at my aunt's dining-room table in a small town outside of Baltimore, that I rifled through my mother's recipes and found a card in her distinct cursive hand: spinach balls. I actually might have exclaimed aloud. No one around me seemed to recall these balls, or recall my mother ever serving them. Are these people insane? I thought. I pondered texting my childhood best friend. "I know she will remember the balls," I said to myself.
I made them the next holiday that rolled around, set them out with the rest of the offerings, and waited. My husband's aunt was the first to make note of them: She emailed me the next day to request the recipe, which I provided her with. "This was my mother's recipe," I wrote, unsure if they were anything special, wont as my mother was to find recipes on the backs of soup-mix boxes and make them her own — a specialty I too have undertaken as I've grown wiser in the kitchen.
I have never looked back. The spinach-ball recipe is similar to many others I have found on the internet, and this appetizer seems to have been common in the early 1980s. But I have never found an identical one (I haven't really looked), which leads me to believe my mother did in fact adapt it to her own tastes. Anytime I have tried to adapt it myself, I have only succeeded in making it worse. For instance, you can't substitute fresh spinach for frozen. The lesson: Never try to make a great recipe from the '70s or '80s higher-brow with better ingredients.
This recipe is famous among my closest family and friends. People eat so many of them that they don't have room for the meal. I used to make two dozen of them for parties of ten or more. Now I never make less than four dozen. They freeze well. They reheat well. They are not hard to make, and they are good cold, room temperature, or hot. They aren't healthy — they require two sticks of butter — but they feel like they are, because they're primarily spinach.
Probably a half-dozen people have asked me for the spinach-ball recipe since I began to make it myself. I always happily share it. I've emailed it, but I prefer another way: to either write out an old-fashioned recipe card in my own hand for them or, even better, to copy on a Xerox machine my mother's card, always including both the front and the back, which just says: 350 — can freeze — Kathy.
And now I share it with you.
Spinach Balls

Two 10-oz packages of frozen chopped spinach, thawed (which takes forever, give it overnight in a colander in the sink) and drained
Dry stuffing mix, seasoned (I usually get the organic crap because it's vegetarian. 15 to 20 oz dry, use only as needed)
6 eggs, beaten
3/4 cup Parmesan cheese, grated
1/2 white onion or two shallots, minced or grated very finely
1 tbsp dried oregano
2 cloves garlic, minced
Hot sauce
Salt and pepper to taste
1 cup unsalted butter, melted
Mix spinach, cheese, onion, garlic, and seasonings together in a giant bowl. Mix beaten eggs together with butter. Add egg and butter mixture and dry stuffing alternately to the spinach, stirring the mixture with a spoon until it's moist but firm enough to shape. Season with salt, pepper, and hot sauce to taste. Mix. Shape into golf-ball-size portions, and put on cookie sheets covered in parchment or foil. Bake at 350 for 20 minutes, or for 10 now and 15 later to reheat. Recipe makes about 36.