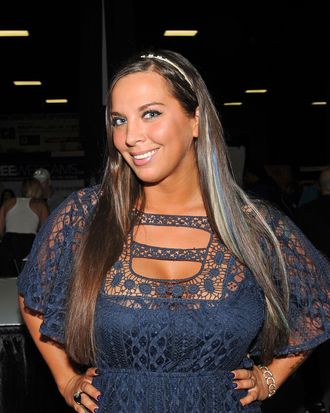 Leathers was poised in person even when she was privately suicidal.
Photo: Bobby Bank/Getty Images
Around 8 p.m. on July 23, 2013, 23-year-old Sydney Leathers logged into Facebook while sitting in her apartment in Princeton, Indiana. Her in-box was filled with an unusually large number of messages. She opened one, sent by a stranger: "youre about to be famoussssssss," it read. Other messages mentioned BuzzFeed. She went to that site and found an article, posted about an hour before, that made her heart sink: "Here Is the Woman Linked to Anthony Weiner in Sex Chats."
This was the last thing she wanted to have happen. Two days prior, Leathers had nervously sent a batch of screenshots to Nik Richie, proprietor of gossip website the Dirty. They were of sexts between her and Weiner, then the front-runner in New York City's Democratic mayoral primary, all exchanged over the course of a few months in 2012 — more than a year after he'd resigned in the wake of a separate sexting scandal. At her request, Richie had posted Leathers's sexts without revealing their source.
Then, somehow, the ten BuzzFeed employees credited on the story managed to identify Leathers as the leaker. Her name and face were all over their post. "I clicked it and — I'm not even shitting you — my first thought was, Well, I hope I have enough Klonopin to OD, because I cannot deal with this," she says, then starts to cry.
Within minutes, journalists were trying to get her to talk. A reporter found her phone number and texted her, asking for comment. There were knocks at her door and business cards slipped under it. She says she was told to resign from her administrative-assistant job at a law firm, which she did. Desperate and panicked, she contacted Richie for help. He immediately got her in touch with Gina Rodriguez, manager of D-listers like Octomom Nadya Suleman and Lindsay Lohan's father, Michael.
Rodriguez wasted no time. "[D]on't answer and don't go outside," she said to Leathers in a BlackBerry-composed email. "I am working on an interview with Inside Edition. Pack your bag you will be flying to LA tomorrow." Leathers's previous life was over. She would spend the next eight months flying from coast to coast, downing tranquilizers to get through the increasingly insane days. But throughout that period, she was poised and charming in public — posing for photos, acting in pornography, selling stories to tabloids, and talking to cable-news hosts in her lightly nasal midwestern twang. She hadn't sought any of this out, but it turned out she was incredibly good at it. To the rest of the world, it looked like she was having the time of her life.
This is the Leathers you see in news flashes in Weiner, the acclaimed fly-on-the-wall documentary about the inside of the Weiner campaign, which premieres today. But it's not the whole picture. The saga radically changed her: No longer an unassuming and anonymous person, she's still out there doing porn and publicity stunts. She even outed another pol for sexting with her last year — this time with her name deliberately all over the leak. Three years after Weinergate upended her life, Sydney Leathers is unsure whether it was the best or worst thing that ever happened to her.
***
I ask Leathers if she'd characterize her childhood as troubled, and before I can finish the sentence, she cuts me off: "Oh, yeah. Oh my god. Definitely." Born in Princeton, her parents divorced when she was two years old and she suffered a trauma while young, though she won't go into details about it. She says her mom abruptly abandoned her while she was in middle school, after which she lived with her dad in nearby Mount Carmel, Illinois. She was popular in high school, but struggled with depression and anxiety. "Nobody really knew anything was going on with me," she recalls, "but I was not in a good place."
After high school, she started dabbling in political writing and activism and was particularly fascinated by Weiner and his fiery Congressional speeches. The story of her and Weiner's sexting relationship is well known at this point: In May 2011, Leathers sent an innocuous message to his public Facebook page. He "poked" her in July 2012. They started exchanging messages, and Weiner turned things sexual. Soon they were sending nude photos (with Weiner using the pseudonym "Carlos Danger") and having phone sex as often as five times a day. Their dialogue was as prolific as it was erotically articulate.
It all fizzled out by the end of 2012 without much fanfare. On April 10, 2013, he messaged her nonsexually to ask what she thought of a New York Times story about his then-new mayoral candidacy. But things got scary the next day, when Weiner hit her with a cryptic message that talked about his brother knowing about their affair. This was the first he'd ever mentioned someone else being in on the secret. Matters got worse a few hours later, when another message came through while she was with her ex-boyfriend. He saw Weiner's name and figured it all out instantly. "He called me a stupid bitch and was pissed at me," she recalls. Not long after that, he told a woman they both knew. "At certain points he would get drunk and text me about it and threaten to tell other people," she says.
"And that's when I was kind of freaking out," she says. "I kind of felt like the walls were caving in a little bit." So she concocted a plan: She would leak the story of the sexting before her boyfriend could say anything. "I thought, Maybe I'm getting out in front of it somehow. Maybe I'm taking the power away from my ex," she says. Plus, she was pissed at Weiner, who was telling the world he had changed after 2011. She felt like he deserved to be unveiled as a hypocrite.
At the time, she was a fan of the Dirty, so she reached out to Richie on June 27, saying she'd sexted Weiner after his resignation and wanted to anonymously come forward. He didn't believe her. They sent emails back and forth. "Once we were a month in, he was like, 'I won't believe you unless you show me,'" she says. So, on July 21, Leathers composed an email to Richie containing screenshots of the sexts. "I was nervous, but I was also so naïve I wasn't nervous enough," she recalls. "Part of me wonders if it was a self-sabotage thing. I feel like Weiner and I have a lot in common: I'm kind of impulsive; I don't always think things through." She sent the email.
***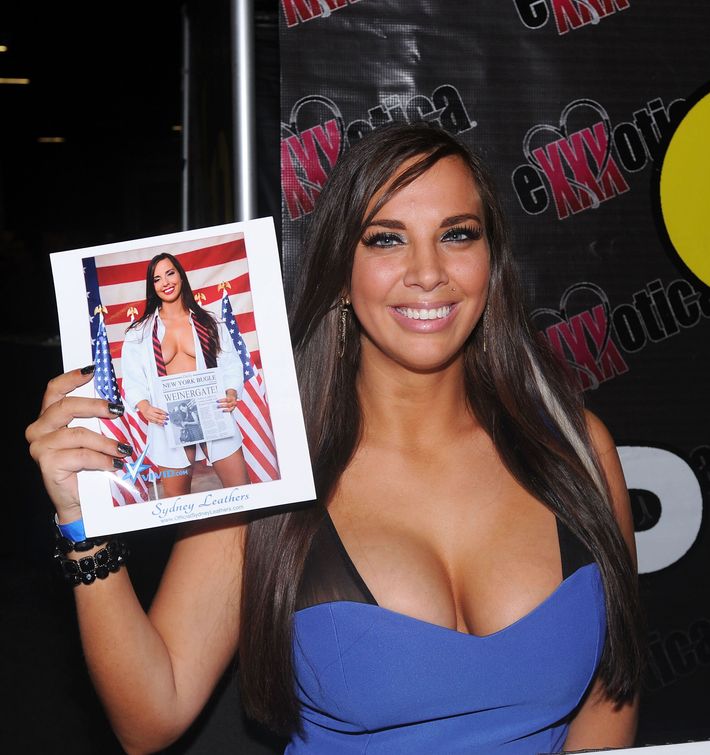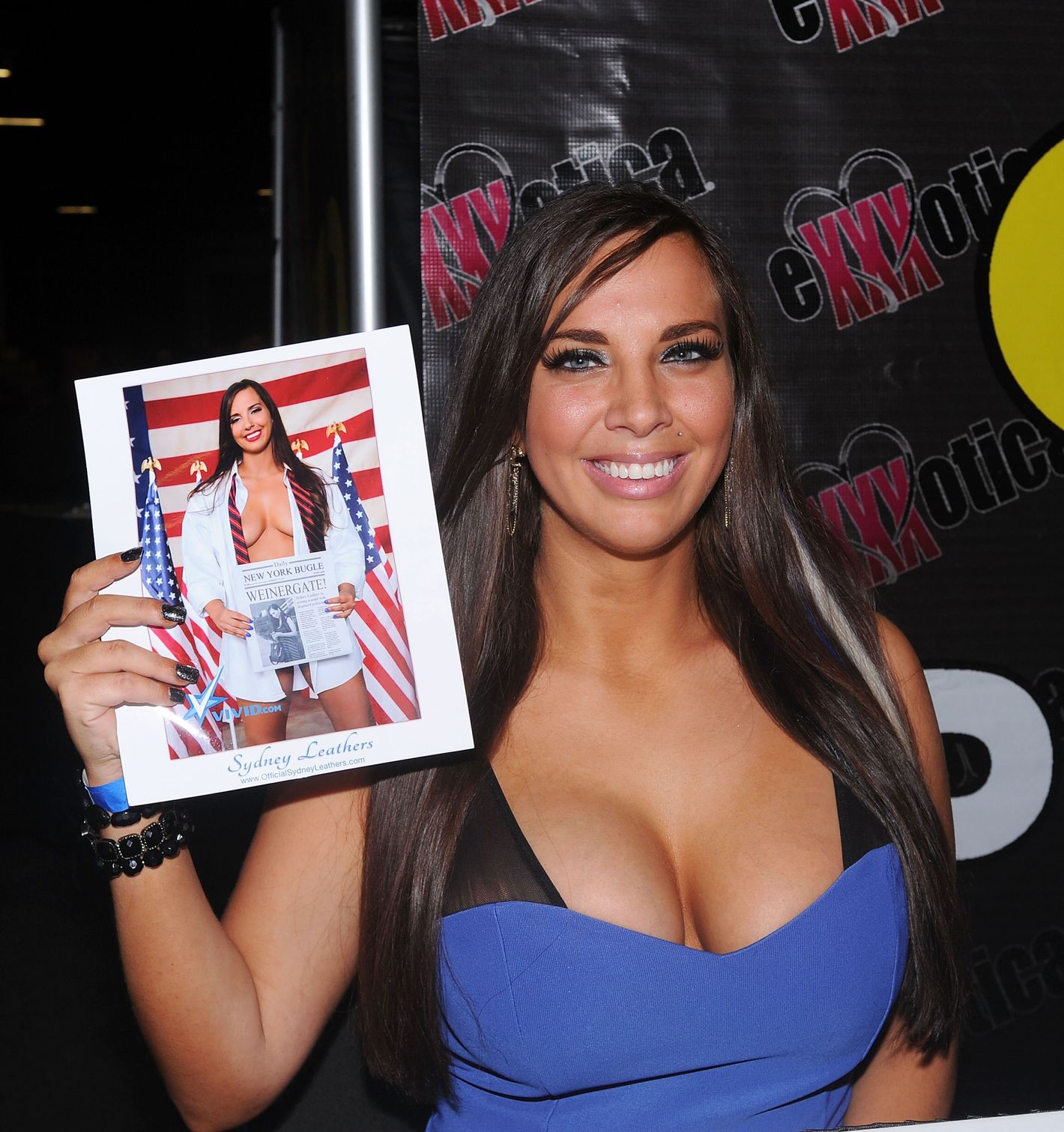 You already know what happened next. At 1:15 p.m. on July 22, the first Weiner post went up on the Dirty, its headline screaming, "EXCLUSIVE: Anthony Weiner Hasn't Changed Poor Huma Abedin, New Image of His Penis." Then came a second post, "EXCLUSIVE: Anthony Weiner SEX Messages Post Scandal With Another Woman, Not Huma Abedin," which contained reams of sexts sent on Formspring. Then "EXCLUSIVE: Anthony Weiner Is a Sexual Predator Luring His Victims." The next day, Richie posted yet another penis shot. Media outlets and social media exploded, and the Weiner campaign struggled to come up with a coherent response.
Back in Indiana, Leathers watched the unfolding drama and "started to have that feeling of impending doom," fearing she might somehow get outed. She avoided the news and spent most of July 23 doing data entry for her job, reading, and generally trying to distract herself. As such, she didn't see the now-infamous press conference in which Weiner and Abedin spoke vaguely about his transgressions, still not admitting the specific screenshots were legit. While the presser wrapped up, a team of BuzzFeed staffers were putting the finishing touches on their post revealing Leathers as Richie's source.
At 6:21 p.m. that day, Kaczynski sent her a direct message on Twitter. He linked to one of the Dirty posts and wrote, "Hi Sydney from your Facebook profile picture this would appear to be you. Could we chat?" At 7:02 and 7:11, another BuzzFeed staffer, Jessica Testa, reached out to Leathers in two Facebook messages. Leathers says she didn't see any of these missives. "You're going to be asked for a lot of interviews tonight," Testa wrote. "I want you to know I'm committed to making sure all parties have a voice in this story."
Even though they hadn't heard from Leathers, the BuzzFeeders moved ahead anyway, outing her in their post at 7:16, just five minutes after Testa's second message. (A representative from BuzzFeed declined to comment on the post.) They called her "A progressive activist from Indiana in her early 20s who identifies herself online as 'Sydney Leathers,'" implying that her birth name was a pseudonym. Within an hour of the outing, Leathers decided to log into Facebook, saw that fateful message about being famous, and her odyssey began.  
Just a few hours after the post went up, Leathers was in Los Angeles. In light of Leathers's talk of suicide and bewilderment, the Inside Edition piece she filmed is a little odd to watch now. If she was going through hell, it certainly didn't show. For the most part, she looked and sounded confident — triumphant, even.
"I'm really good at putting on a happy face, even if I'm really unhappy," she says when I ask her about her lighthearted demeanor during that interview and the ones that followed. "I'm really good at smiling through an awful time, but I had to eat Klonopin to get through the day." Leathers says she was taking an average of about six milligrams of the tranquilizer every day, well over the recommended dosage. "It calms me down, but it makes me more impulsive also. It was like anytime anybody said anything, I'd be like, 'Yeah, that's a good idea! Let's do that!'"
And ideas were plentiful. Rodriguez sent Leathers to a whirlwind of meetings and appearances over the course of the next few weeks. She was abruptly everywhere, talking to executives at porn studio Vivid, doing a lengthy interview with The Daily Mail and a swimsuit shoot in Santa Monica, appearing on The Howard Stern Show, modeling leather clothing, doing a stripping gig, being filmed while getting breast implants — the list of stunts went on and on.
"I was almost thinking of myself as a business more than I was thinking of myself as a person," she says. "It sounds really cold, but that was just what I had to focus on to get through all of it. It was just like, This is work now. I had to make it okay, and I guess that's how I made it okay." It was lucrative work, too. The former administrative assistant was now, thanks to Rodriguez, selling stories and photos to tabloids, becoming a paid spokesperson for sex-oriented tech products with names like Arrangement Finders and iHookup, and taping a porn parody called Weiner and Me for Vivid (the taping of which she remembers fondly). "My first big check was more than my dad had made in the last year," she says.
By early September, Leathers had crafted a consistent and entertaining persona, speaking wryly and emasculatingly about Weiner everywhere she went. But she says she was having trouble keeping her sanity in check. At a particularly low moment, Leathers resorted to self-harm by cutting herself, something she hadn't done since she was a teenager. She recalls a bathing-suit photo shoot where she had to cover up scars with "grandma bottoms that made me look way fatter and terrible." "I just remember everybody being like, 'Oh my God, she looks like shit,'" she says. "In reality, I'm like, 'Guys, I feel like shit. You have no idea what I'm going through right now.'"
But the potent mixture of money, managerial pressure, Klonopin use, and inertia kept her in the game all the way to the mayoral primary. Weiner's polling numbers had been obliterated by the scandal, and he stood no chance of winning. But she kept insulting him, famously showing up at his post-election party and racing through a McDonald's to try and confront him. He slipped away. It was the closest she'd ever come to actually meeting him.
The campaign may have been over, but Leathers's grinding publicity tour was not. Most notably, in November, she got a labiaplasty and tried to sell bits of her labia. She started to burn out and did a brief and unpleasant stint in rehab around the end of the year. "My main therapist was really slut-shaming me about doing porn," she says. "I had expressed to her, I don't know how else to make money right now until I get a degree. This is what I'm doing. It just wasn't a good experience." In early 2014, she moved back to Princeton and, for the first time since July, got to stay in one place for a while.
Improbably, despite everything that had happened, Weiner hadn't blocked Leathers on Facebook. On February 2, 2014, she was feeling particularly self-loathing and she sent him a message. "I apologized, actually," she says. "I was like, 'This whole thing was fucked up and terrible,' basically. 'I'm sorry I'm a horrible person. I've been thinking of killing myself.'" He didn't respond.
At 3:15 a.m. on May 29, she sent him one last Facebook sext: a close-up of her fingers, tipped in gold-glitter polish, spreading her vagina open. She doesn't remember taking or sending the photo today, but, given the time stamp, she assumes she wasn't sober. She got no response, but right below the photo a check mark appeared along with the text "Seen May 29."
***
In some ways, Leathers has gone back to being an ordinary, small-town woman: She lives far from Hollywood or Manhattan in Evansville, Indiana (pop. 120,310); she graduated from college this month with a degree in broadcasting (she wants to work behind the camera, not in front of it); and she dwells in a "very cute little two-bedroom house" with her two cats. Like many 26-year-olds, she spends a lot of time on Facebook and even more on Twitter and Instagram.
But Leathers never really went back to a conventional existence. She's stayed in the porn industry, flying to shoots every once in a while. She's gearing up to write politics-oriented columns for adult sites ExplicitList.com and HotMovies.com. She's even turned her most infamous hobby into a side career: For the right price, you can pay to sext with her, either by linking up with her on Twitter or through a service called Dream Lover. Astoundingly enough, Indiana state representative Justin Moed was stupid enough to take her up on that offer in February of 2015. As you'd expect, Leathers outed him — this time with the calm precision of a gossip-industry veteran. The nervous leaker of 2013 was long gone.
"Don't we all need wine before watching a documentary about a stupid sexting scandal we were involved in? No?Just me?" she tweeted a few weeks ago as she prepared to watch a screener of Weiner at her home. She was expecting to hate it, or at least find it difficult to watch, but she was pleased to see that it spent most of its time putting Weiner and Abedin in the hot seat. "I really thought that the whole thing was gonna make me look like the villain," she says. "But I feel like he looked really dumb, and she kind of looked like the bad guy at points."
Leathers says she hardly ever uses Klonopin anymore (though she keeps a "rainy day" stash, just in case) and is having great success in figuring herself out through eye movement desensitization and reprocessing (EMDR) therapy, a technique used for PTSD patients. She says she talks about the Weinergate escapades in her sessions but also focuses on her childhood and her relationship with her mom.
Now that she's graduated college, she's interested in a broadcasting job but isn't looking too hard: "This is terrible, but there's part of me that's like, I'm not done with porn yet," she says. "I feel like I gotta get that out of my system and then will grow up and look for a real job someday." In the meantime, she gets by on royalties from Weiner and Me and erotic side gigs. "I web-cam. I sell panties. Just today I went and mailed some thigh-highs from one of my scenes. Everything is a way to make money to me." She says she's built a solid, upper-middle-class existence for herself.
I ask her if she'd trade all of that money for the chance to go back to the way her life was before July 23, 2013. "No. Honestly, no, because I'm happier now," she says. I ask if she's grateful, on some level, for the whole Weiner experience. She pauses. "I hate to say that," she says. "You're making it like — I don't know. I don't know that I'm grateful. I think I'm just okay, you know what I mean? I survived through it. It sucks. I'm not necessarily grateful for it, but I lived through it. I'm glad that I lived through it."