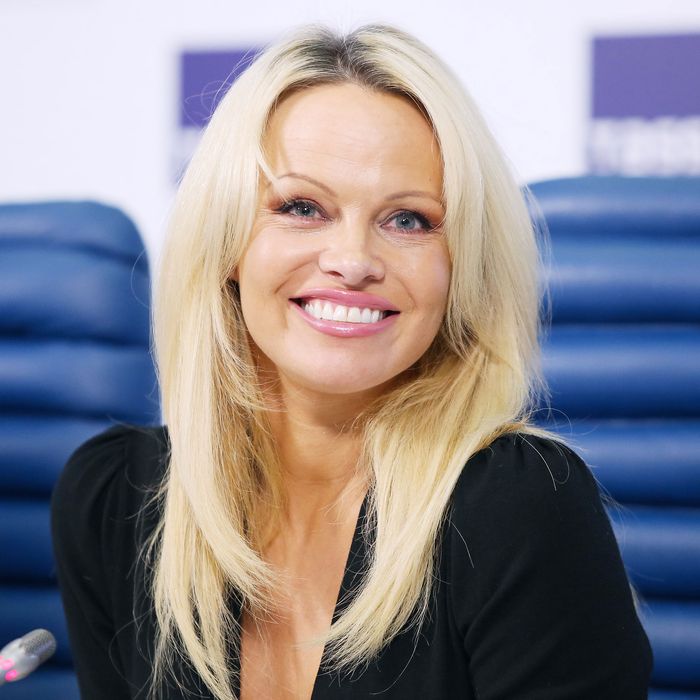 Pamela Anderson isn't stressing about aging.
Photo: Epsilon/Getty Images
Hollywood is full of people downing chlorophyll shots and alkaline water to keep aging at bay. In the movie Connected, Pamela Anderson plays a spin instructor whose obsession with wellness and youth takes a darker turn. But real-life Anderson shares a much more balanced perspective on beauty through happiness and aging. Here are some of her best truths, as shared in an interview with W magazine.
On not taking things for granted:
Aging is something we all deal with. At a certain age, you can find yourself at a loss. Your children are grown. You may have gone through a divorce. You're trying to find meaning. What's your purpose now? You've raised your kids, and now they think you're a little crazy, because you're trying to do all these self-help things. You become distant from everybody. You're searching for answers. If I do all these things to look younger—the creams, the classes, the supplements, the procedures—I'll be more accepted by my kids, my friends, men. You're dealing with so much loss at this age. It seems like everything is behind us, so what's next? We took a lot of things for granted—youth, beauty. But now what?
On a beauty cliché that has nothing to do with makeup:
I know it sounds like a cliché, but happiness has a lot to do with beauty. Calm, peacefulness and not-constant stress are very, very important to feeling beautiful and confident. And that comes across whether you're wearing makeup or not. I remember looking in the mirror during filming and saying, "Who is this person? How did I let myself get to this place?"
On great female role models:
I actually like aging. I have great older female role models in my life, including my amazing mom, who have glitz, glamour, and all sorts of fun. Getting older isn't the end. I know I have so much to look forward to.
Emoji claps that Anderson may not be one of those maniacal bee-pollen-eating actresses. Here's to more honest dialogue about aging and living well.