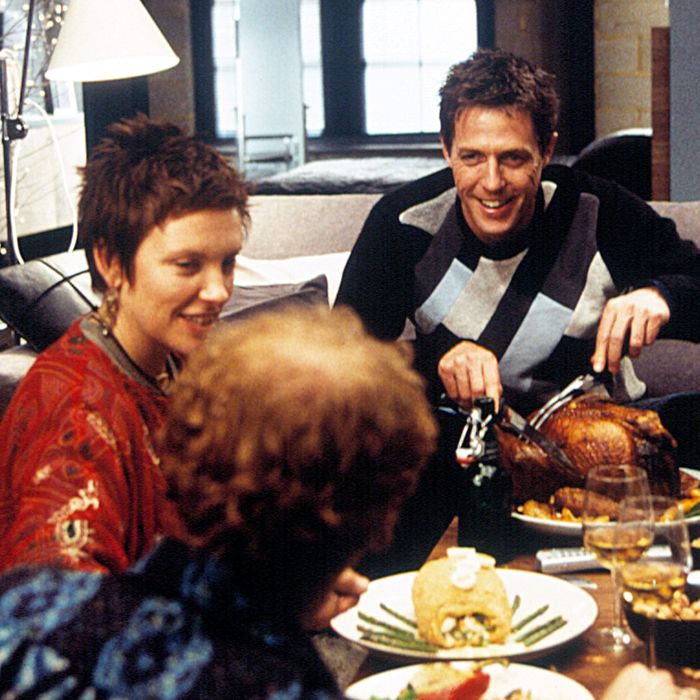 About a Boy
Photo: Universal/Courtesy Everett Collection
I've been feeling really down lately, like a hamster on a wheel or a gray egg avatar on a Twitter screen. My husband is worried about me.
"Let's just watch another episode of The Wire," I toss off when he tries to ask me about what's going on, after he comes home from his poker game around midnight one night.
My face is a flatline emoji. My eyes are cast downward. I'm lying on our loosely made bed in a sea of paperwork, gum wrappers, hair ties, color-coded file tabs, and a label maker. Steeped in self-pity, I ponder making a new folder and printing, in that crisp sans-serif font which makes everything so easily compartmentalized, a new label: "DEPRESSION."
"Let's talk a little first," Pat says, trying to reach out and touch me through a barricade of three stacks of file folders. He slides the fortress sideways, and his hand reaches my leg, just barely. In response, I fall backward, close my eyes and begin to list what is upsetting me.
"I feel sad," I begin. "I'm sad about some of my friendships that have fallen away. I'm sad because my days are often filled up with way too many transactional relationships. Either I want something from someone else or they want something from me. There's no love there at all. There's no sense of history or loyalty. I feel resentful. I feel disorganized. I feel like I'm never going to finish my book proposal. I feel over everything. I feel depleted of joy and wonder and gratitude and authenticity."
What I didn't say: I feel like I need more love than he can provide.
And I'm taking it out on him — some days without even realizing it. It's not just that I'm grumpy and depressed, but also expressing the palpable lack of gratitude that can corrode a marriage when one partner pulls away from, well, everything.
One of the tools that I discovered in order to better check in with my partner comes from the terrific book The 5 Love Languages. The idea (which sounds fairly corny, I admit) involves communicating the level of your "love tank" to one another as if your contentment had a physical dipstick inside of it. On a scale of one to ten, you indicate how full or empty your heart feels in terms of sustenance and support.
While my feelings toward my husband are definitely at a solid ten right now, my overall love tank is hovering around six or seven. And that distinction makes me realize what I'm doing wrong: I'm not relying on enough sources of support and care outside of my partner. I need to figure out how to correct that.
"Okay, so why don't you just tell me things that are going through your head," my husband says encouragingly. "Just keep talking. That will help."
"I think I need to make more time for the people in my life who really love me and are there for me no matter what," I say. "I need to reach out rather than just feeling sorry for myself."
"That sounds smart," he says. "I want you to do that, too. So who are people you can reach out to?"
I start listing off names, and, as I do so, he gets into bed and positions my head in his arms. He's squeezing my body as tightly as he can, which he knows comforts me.
"So … now can we watch The Wire?" I ask, depleted after only a little bit of sharing, unable to go much deeper without the depression going deeper too. "I really need to hear your Bunk impression."
He obliges, and we turn on the TV. But after working nonstop for 48 hours, he falls sound asleep next to me as soon as the theme song starts. I turn the sound down, tossing and turning next to him, my head spinning with plenty of problems and few solutions.
As he sleeps, I open my task list in my phone, thinking that laying things out will help me feel more in control. I do enjoy listing things. My list reads: 1. Send laundry out. 2. Return stuff to Container Store. 3. Hire the shelving guy from TaskRabbit. 4. Cancel Amazon Prime. 5. Get new printer cartridges. (My life is scintillating.)
Here's what I should be putting on that list: 1. Make a dinner date with an old friend or reach out to people I'd like to know better. 2. Plan a trip to see my sister and parents in California. 3. Figure out a regular 12-step meeting to go to and put it on my calendar so I don't keep blowing it off. 4. Volunteer. 5. Spend less fucking time on the internet.
I think of my never satiated to-do list and ask  myself: Am I productive or just busy? "Busy" is when your time is constantly filled — versus "productive," when you are focused on your big objectives. I realized that the more time I was spending on stupid errands and list-making, the less time I was spending on my real objectives in life: nurturing my mind, body, and soul.
Enough self-pity, I decide. It's time for action.
I search for women's 12-step meetings I can attend every day, and I add them in as recurring events on my calendar. I slather my pillow in lavender essential oil and finally pass out. I email longtime friends to make plans. I sign up to volunteer with the elderly (talk about being reminded not to waste your life). And I make a plan to get off the internet for long blocks of time and disconnect from Wi-Fi entirely.
The next morning, my reminder goes off for the meeting. I don't want to go, but I force myself. It's one right action, which is all I need.
"My name is Mandy," I say to the group of women at the meeting, the first one I had attended in months, "and I'm having a hard time right now."
Eyes turn to me, sympathetic and kind. One woman gives me a warm embrace. I feel goose bumps on my arms.
My love tank fills instantly.