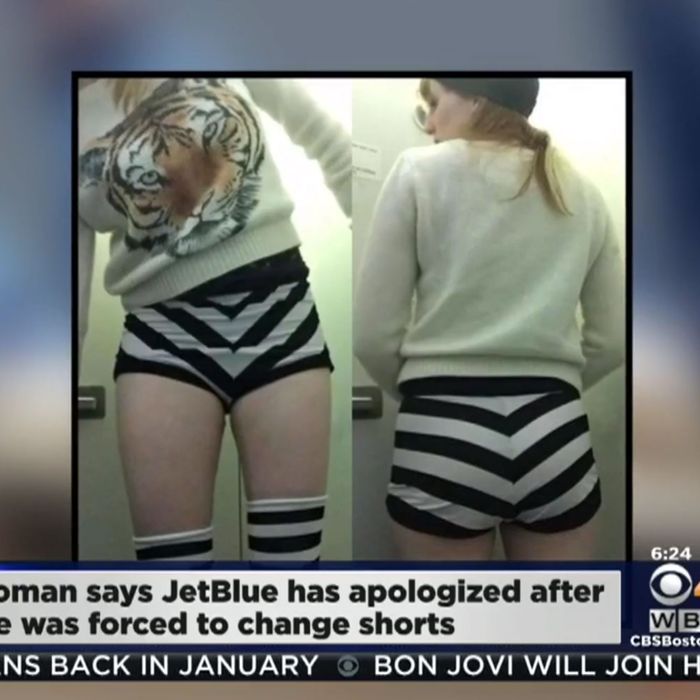 Maggie McMuffin wearing the outfit that got her turned away from a JetBlue plane.
Photo: CBS WBZ
Following airline companies' grand traditions of making flying more difficult for passengers who speak Arabic, do math, or breast-feed, one woman says she was stopped from boarding a JetBlue plane because her shorts were too short.
The passenger, a burlesque dancer who goes by Maggie McMuffin, says she was stopped at Logan Airport in Boston on May 18 when she attempted to board a connecting flight in short shorts.
Maggie told KIRO-TV, "the flight crew had discussed it and the pilot had decided that I needed to put something else on or I would not be allowed to board the flight." There is no specific JetBlue dress code, though the company's contract of carriage states that it can refuse "persons whose conduct is or has been known to be disorderly, abusive, offensive, threatening, intimidating violent, or whose clothing is lewd, obscene, or patently offensive."

To catch her flight, she bought larger, more "appropriate" shorts in a different terminal for $22. JetBlue ultimately refunded her for the shorts and offered her credit toward a new flight, though, as she told King 5 News, "I don't really want to fly JetBlue again and they told me they couldn't give me a cash refund."
"We support our crewmembers' discretion to make these difficult decisions," JetBlue said in a statement to CBS. The crew members "determined the burlesque shorts may offend other families on the flight."
Still, Maggie insists, "they're not like burlesque shorts, they're just shorts. And it's obviously subjective."
And, perhaps most offensively, Maggie's shorts look both extremely comfortable and wrinkle-free — doesn't the JetBlue crew know how hard it is to find something that convenient to fly in?