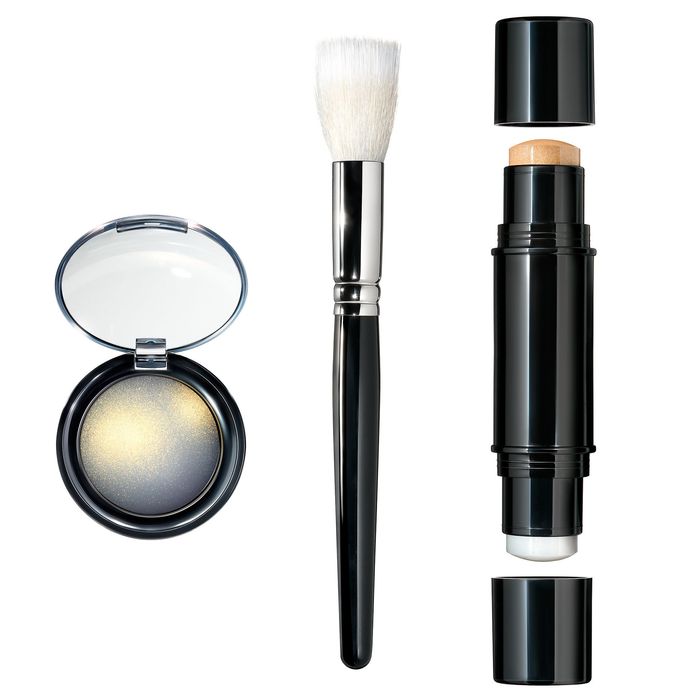 Skin Fetish in Golden
Photo: Courtesy of Pat McGrath
If it feels like yesterday that shiny skin was the Antichrist and an oily, greasy face was a thing to escape, rather than covet, that's because it was. But ahoy! Today's a new day. Pat McGrath just released her dewy highlighter — Skin Fetish 003 — on Sephora. It makes your skin glisten under any light, and if Madame McGrath says dewy skin is all the rage, then toe the line: It's time to get in formation.
So what is Skin Fetish 003? There are three parts: a clear balm and a creamy highlighter adjoined at opposite ends of a stick, and a separate pressed-powder highlighter packaged in a small disc. You can use one, two, or all three of the products together. Depending on how you apply them, here's what Skin Fetish can do: highlight cheekbones, soften lips, accentuate glossy lids, illuminate shoulders, strengthen the appearance of the brow arch, and brighten the collarbone. Get creative with it. Skin Fetish knows no limits.
Skin Fetish is available in two colors: a milky, moonlight silver Pat McGrath calls "nude," and candlelight gold simply known as Golden. The former is better suited for fair complexions, while the latter makes warm, dark complexions leap to life.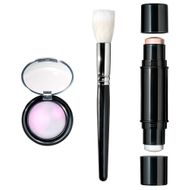 For just a hint of sheen, swipe the clear balm along the high points on the cheekbones, on the lips, and along the inner corner of the eye. To make a grander statement, apply the metallic end of the stick along those same spots. For the ultimate show in radiance, swirl Pat McGrath's stipple brush in the kit's powder pigment first, and then sweep in strategic areas around your face. The powder delivers an opalescent glow, like your face just happened to fall into the perfect lighting.
Wisely, Pat McGrath refrains from calling Skin Fetish a highlighter. Most highlighters glitter far too much at worst, and appear like sparkly makeup at best. Skin Fetish looks like a glimmery extension of your skin. It glistens and bathes your skin in dewy light. Blotting papers be damned, Skin Fetish just made slick skin a thing to have and to hold all over again.
Skin Fetish 003, $72 at Sephora.