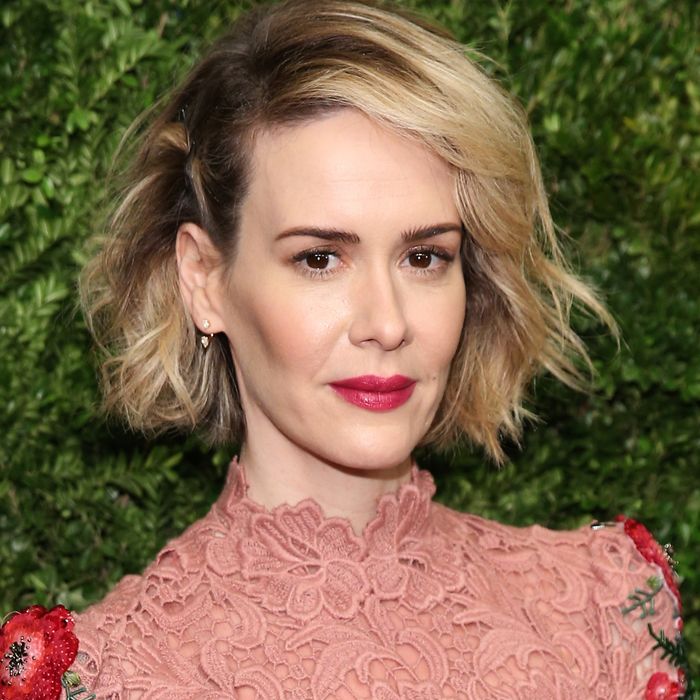 Actress Sarah Paulson
Photo: Neilson Barnard/Getty Images
Sarah Paulson, one half of America's cutest May-December couple, spoke to No Tofu magazine about her yearlong relationship with actress Holland Taylor, who is 32 years her senior.
"I believe that everyone should be allowed to speak their truth and just say what they want to say and show the world who they are," the actress said. "You should be able to love whomever you fucking well please." Amen to that!
Before her relationship with Taylor, Paulson dated actress Cherry Jones, who was 18 years her senior, and actor Tracy Letts, who was 9 years older. Speaking to the New York Times in March, Paulson expressed her views on dating in similar bumper-sticker-worthy terms. "If my life choices had to be predicated based on what was expected of me from a community on either side, that's going to make me feel really straitjacketed, and I don't want to feel that," she told the Times. "What I can say absolutely is that I am in love, and that person happens to be Holland Taylor."
Paulson also spoke to No Tofu about her recent stint playing prosecutor Marcia Clark on American Crime Story, saying she identified a little with the media scrutiny that Clark faced — although the response to her and Taylor's relationship has been much more positive. "I couldn't help but feel a kind of kinship in terms of being looked at," she explained. "But there was so much celebration about my relationship. So much so that I thought: Jesus, did everyone just assume I was going to be alone forever with 500 cats?"
Sarah, girl, you can have as many cats as you fucking well please.