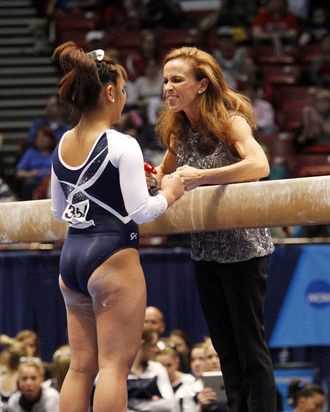 Former gymnast Taylor Alotta with coach Rachelle Thompson in 2014.
Photo: Butch Dill/Associated Press
Former members of the Penn State gymnastics team allege that they were pressured to train through injuries, demeaned, and body-shamed by husband-and-wife coaching team Jeff and Rachelle Thompson. Rachelle is set to resign next month, but the athletes are speaking out because they want Jeff gone, too.
Shealyn Farley, now 21, told People that as a freshman she was criticized for doing physical therapy and not training the week after she had knee surgery, and was later forced to train on the uneven bars even though her knee swelled "like a balloon." Farley said Rachelle repeatedly called one of her teammates a whale and instructed her to run on the treadmill every morning. After Thanksgiving break one year, Rachelle allegedly told the team "Wow, you guys look like you ate your way through break." 
Farley contemplated suicide but quit the team that fall, though not before being criticized one last time: "One of the first comments out of Rachelle's mouth was, 'You wouldn't be making your father proud,' knowing my father passed away 4 years ago. At that moment, I knew I had made the right decision." 
Another former team member, Kristin Blades, said the coaches not only pressured her to return to vaulting quickly after she had elbow surgery but they were also extremely involved in her personal life. They discouraged her from hanging out with one teammate in favor of a better-performing member of the team and told her that she needed to choose between her boyfriend and her scholarship.
Blades said that in a meeting with Jeff, he asked her, "Why would you choose a man over your scholarship? You're a lonely little girl if you can't let go of this guy. Do you stay with him because you're sleeping with him?" The coaches also asked her what her teammates ate and suggested that they not hang out with another gymnast because she was "kind of slutty."
The university's Office of Ethics & Compliance was made aware of the allegations earlier in the school year and conducted an investigation of the gymnastics program over the winter; they found no evidence of abuse. Still, in a May 19 email obtained by People, Rachelle Thompson said she'd step down at the end of June while Jeff would continue on as head coach. Several former gymnasts detailed their experiences for People because they believe Jeff shouldn't be a coach at the school.
Jeff said he was asked not to respond to press requests and Rachelle was not available for interviews. In a statement given to People, Penn State had this to say about the investigation: "The Athletics Department reviewed the report and noted that while that some student athletes reported behaviors they found personally objectionable no instances of abuse were identified. We believe we have addressed the issues identified and are optimistic about the future of the program. Our goal, as always is to create an environment that facilitates the best possible student athlete experience for all." 
The school said that they will continue to have exit interviews with athletes who leave teams as well as conduct annual experience surveys with student-athletes and that they look forward to working with Jeff Thompson as head coach.
Neither Blades or Farley think it's enough. "There's a difference between hard work and mental abuse," Farley said. "I don't think that they should be allowed to coach women any more. Not only do I not want them to work at Penn State University, I don't want them to work at any university, I don't want them to work at any club gym, I don't want them to work in coaching ever."