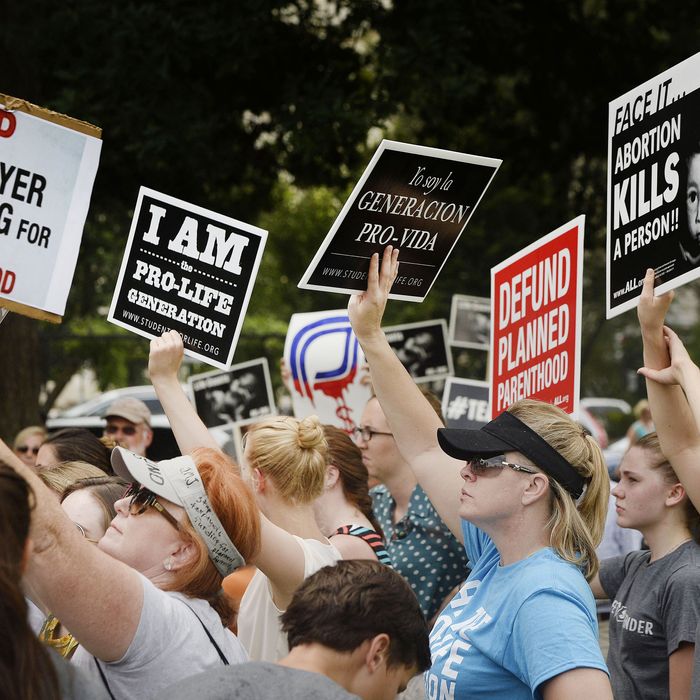 Unlike protesters, the anti-abortion technology goes inside a clinic waiting room.
Photo: Olivier Douliery/Getty Images
A Boston advertiser is sending pro-life ads to women while they're inside abortion clinics. Yes: while women are in clinic waiting rooms, waiting for medical help.
As reported by Rewire, Copley Advertising CEO John Flynn thought to use mobile surveillance technology — which normally tracks whether you're interested in buying things like a car or shoes — to follow women's activities and find out who might consider abortion. The "mobile geo-fencing" technology sends anti-abortion ads to a woman's phone after she enters an abortion clinic; it can also share names and addresses of women seeking abortion (and abortion providers) to anti-choice groups.
In the past few months, Flynn has targeted 140 abortion clinics in New York City; Pittsburgh; St. Louis; Richmond, Virginia; and Columbus, Ohio — all for Bethany Christian Services, the largest adoption agency in the U.S. He also tried targeting methadone clinics and other abortion facilities. Another client is RealOptions, a Northern California crisis pregnancy-center network.
The only way to block the targeted ads is by leaving a smartphone at home or in the car, or turning off a phone's GPS and closing all apps before entering a clinic, Rewire reports.
Lawyers said that weak privacy and data laws allow the technology to be "perfectly legal"; experts noted the potential for others to abuse this kind of personal data collection, citing the cyberattack on the website Ashley Madison as an example. "It's unfortunate, but any woman who plans to visit an affected Planned Parenthood, or anyone who works for Planned Parenthood, should be afraid," a digital marketing expert told Rewire.