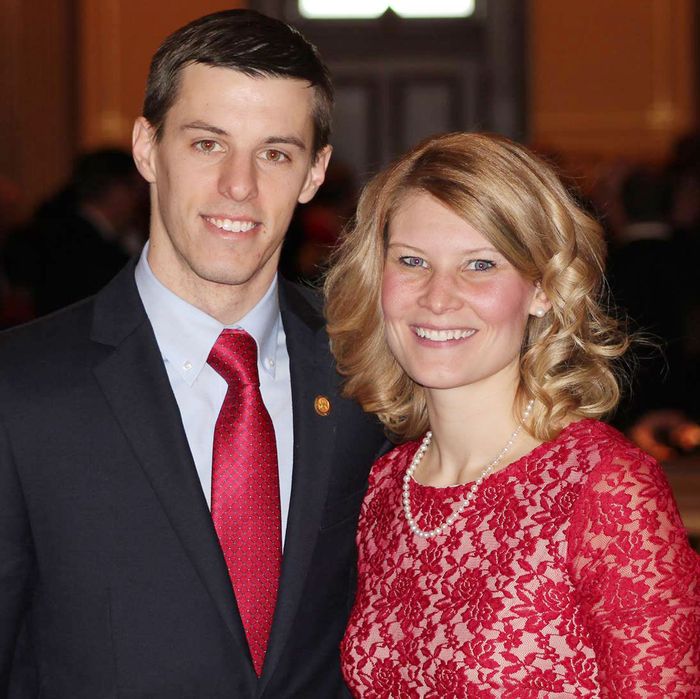 Michigan GOP State Rep. Lee Chatfield with wife Stephanie Chatfield.
Photo: Lee Chatfield/Facebook
Prompted by threats and rumors during her husband's reelection campaign, the wife of a pro-life GOP lawmaker opened up about her own abortion. Her spouse, Michigan GOP State Rep. Lee Chatfield, is co-sponsoring a state anti-abortion bill and supports defunding Planned Parenthood.
Stephanie Chatfield posted the essay to her husband's Facebook page on Friday, first thanking the unnamed person who threatened to out her secret. "I made a decision that I've thought about and regretted nearly every day since. It's haunted me. It's made me weep. It's made it difficult to look in the mirror at times," she wrote. "Your desire to see this story go public emboldened me to do something that I should have done years ago. After speaking it over with my husband, I felt that telling my story was best."
Her unplanned high-school pregnancy came three weeks after she was allegedly raped at a party. She was too ashamed to tell anyone and aborted the child alone — the "worst [decision] of my life" — before she said she found forgiveness in God. Then she delivered an important message for all pro-life supporters:
To all Pro-Life advocates, be against abortion – yes, but let's continue being proactive and looking for young girls and women who are hurting, suffering and confused so we can offer them assistance. Let's be about solutions and showing the true love of Christ to each and every woman in our communities and families.
People supported Chatfield and opened up about their own abortions in the post's comments. Lee Chatfield's two opponents for his state representative seat this November denied any involvement with the disclosure.