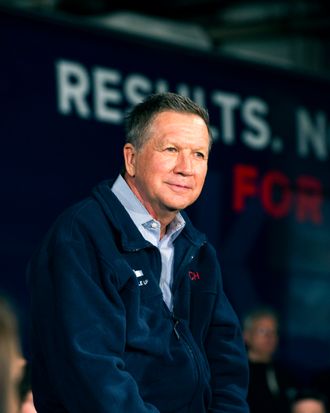 Promposal king John Kasich.
Photo: Angelo Merendino/Getty Images
The advent of technology and viral internet fame has turned the previously innocuous (if nerve-wracking) process of asking someone to high school prom into a circus. The trend of increasingly elaborate and ludicrously expensive "promposals" has spiraled out of control. But now, roping in third-place GOP presidential candidate John Kasich, they've officially jumped the shark.
California teen Julia Khan took a selfie video with the Ohio governor, and had him say, "Hey Nico, it would be 'Kay-sick' if you would go to the prom with Julia."
He might not be able to secure a nomination for president, but Kasich can successfully help an awkward teen score a date. But not their votes though: Both Khan and her date are Hillary Clinton supporters.