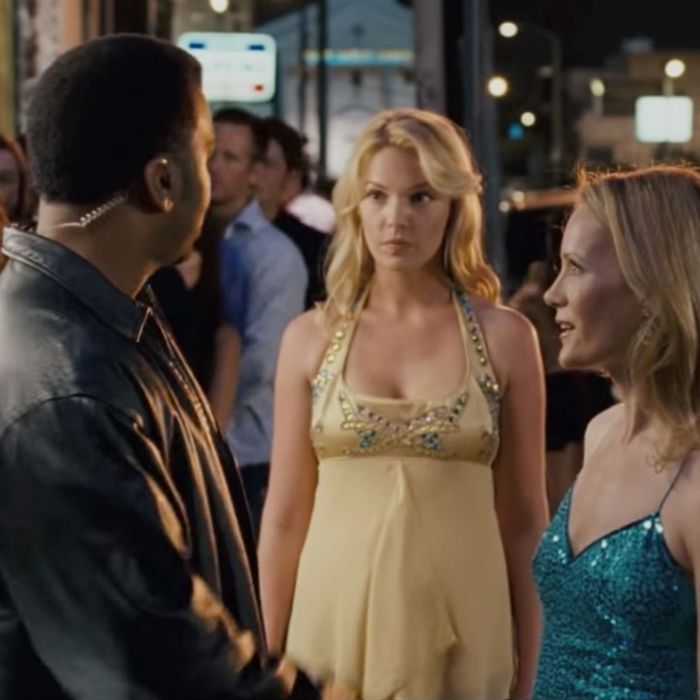 Craig Robinson, Katherine Heigl, and Leslie Mann in 2007's "Knocked Up."
Photo: Courtesy of MovieClips.com
Today, the New York City Commission on Human Rights issued guidelines that not only define violations of pregnancy protections in the workplace, but also remind bars and restaurants that they can't refuse to let pregnant women in or not serve them drinks simply because they are gestating or look like they might be.
Bars are still required to post signs that say drinking during pregnancy can cause birth defects, but commission officials say such health decisions are ultimately up to the woman and her doctor — not a bouncer or server.
Maybe a pregnant woman at a bar just didn't want to sit at home! But even if she does choose to order something to drink, it's not permission for others to moralize. And it does happen: The commission is looking into the case of a pregnant woman who wasn't allowed into a bar.
As the guidelines explain:
Unlawful policies include those that categorically exclude pregnant workers or workers who are capable of becoming pregnant from specific job categories or positions, deny entrance to pregnant individuals to certain public accommodations, or refuse to serve certain food or drinks to pregnant individuals or individuals perceived to be pregnant.
So even restaurant policies that might prohibit staff from serving pregnant women sushi are illegal. The commission says treatment that singles-out pregnant women is wrongfully rooted in "judgments and stereotypes about how pregnant individuals should behave, their physical capabilities, and what is or is not healthy for a fetus." The full guidelines are here.
If you believe you've been discriminated against, call 311 and ask for the Commission on Human Rights. Happy Mother's Day!