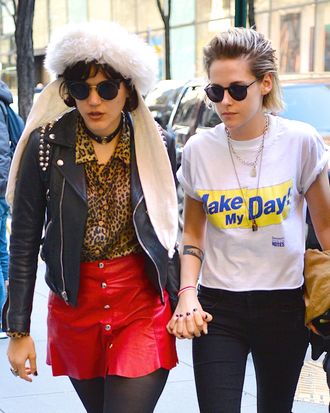 Goodbye.
Photo: Robert Kamau/Getty Images
An interesting fact about Soko, a model-actress-singer-songwriter who up until today had been in a relationship with Kristen Stewart, is that her real name is Stephanie Sokolinski. It seems likely you did not know that fact before. But now you do. Okay. Moving on.
Stephanie and her girlfriend, K-Stew, another actress-model-person who can pull off any outfit on Earth (even red Vans, which are not a dignified look on anyone), have broken up, so there is one less good celebrity couple on this planet that we have to pour our empty energies into. Soko and Kristen loved many things: dressing like the cool girls who went to private trendy high schools, laughing (just kidding), and a little public thumb-sucking. In all, a relationship to aspire to.
But this may not be the end for Stephanie and Kristen. According to Us Weekly, who broke the exclusive news of the pair's demise, a source told them the couple "may get back together in the future." Until then, here are some of their best looks together: red Vans, polka dots, platinum hair, and all. You will be missed, KoStew, so why not just get back together?