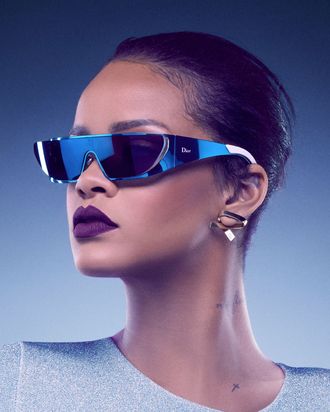 Rihanna wants you to throw shade like her in Dior.
Photo: Jean-Baptiste Mondino/Dior
No Raf Simons, no problem. A new designer hasn't been announced yet at Dior, but, in the meantime, Rihanna is stepping in. WWD reports that Rihanna and Dior's newest collaboration (this is their second; the first was Secret Garden) is called, fittingly, Rihanna, a collection of sunglasses inspired by Star Trek's La Forge. "I've always been obsessed with his eyewear," she told WWD. Rihanna explained that the designs came together in a day, and, yes, she actually designed them:
I spent a day at Dior with their eyewear design team. I started by looking through all the archives to see what they've done in the past, then got acquainted with all the new materials. I literally sat there and drew and drew until I was happy with the design, and the team illustrated it for me right then and there. We picked materials and colors that same day, and after that it was a matter of weeks before I saw the first prototype.
Throwing shade like Rihanna will cost you somewhere between $840 and $1,950 for a 24-karat-gold version, to be sold exclusively at Dior stores in early June. Your head-to-toe Rihannization is now complete: You can sport eyewear, Manolos, Puma gear, socks, and makeup all by her. It's Rihanna's world — we're just living in it.