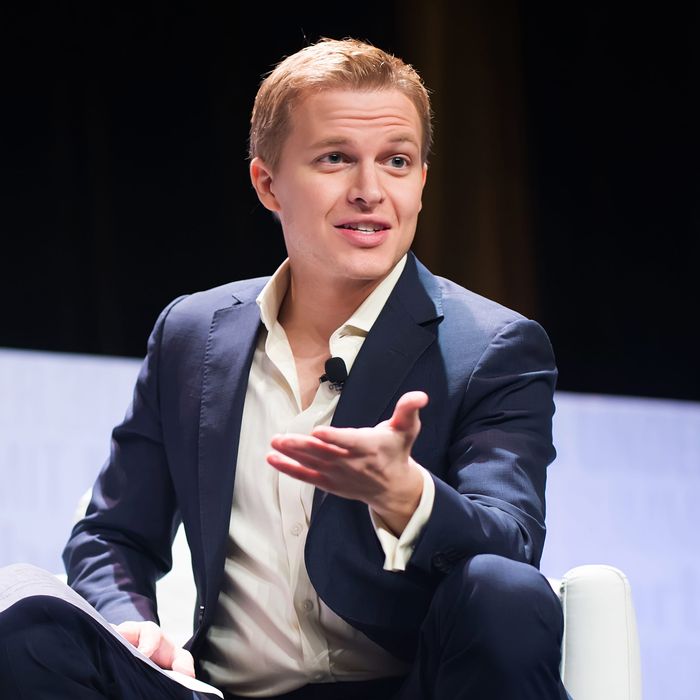 Ronan Farrow.
Photo: Gilbert Carrasquillo/Getty Images
In a new column for The Hollywood Reporter, journalist Ronan Farrow calls out the film and media industries for continued support and acceptance of his father, Woody Allen.
Even after Allen's daughter Dylan Farrow claimed in 2014 that he molested her when she was 7, the director has remained a strong influence in Hollywood: His film Café Society opens the Cannes Film Festival today; he's currently developing an untitled television series for Amazon; and he continues to be rarely questioned by the media about the allegations.
This silence was most recently evident, Farrow notes, in The Hollywood Reporter's May 4 cover interview with Allen, in which Dylan's claims are mentioned only indirectly, in a correction note: " … in 1993 authorities did not dismiss charges against Allen, but declined to pursue them after an investigation."
In his piece, Ronan Farrow admits he has silenced sexual-assault survivors himself. As a brother, he didn't speak up for his sister following her charges, save for an occasional tweet; once, as a reporter, he didn't press a Bill Cosby biographer about omitting the entertainer's rape and sexual-abuse allegations from the book. After the New York Times published Dylan's open letter claiming Allen's sexual abuse, the newspaper gave Allen twice the space to address her allegations — showing, Farrow says, "how differently our press treats vulnerable accusers and powerful men who stand accused."
Most important, though, is Farrow's closing note:
Tonight, the Cannes Film Festival kicks off with a new Woody Allen film. There will be press conferences and a red-carpet walk by my father and his wife (my sister). He'll have his stars at his side — Kristen Stewart, Blake Lively, Steve Carell, Jesse Eisenberg. They can trust that the press won't ask them the tough questions. It's not the time, it's not the place, it's just not done.

That kind of silence isn't just wrong. It's dangerous. It sends a message to victims that it's not worth the anguish of coming forward. It sends a message about who we are as a society, what we'll overlook, who we'll ignore, who matters and who doesn't.

We are witnessing a sea change in how we talk about sexual assault and abuse. But there is more work to do to build a culture where women like my sister are no longer treated as if they are invisible. It's time to ask some hard questions.
It is time.