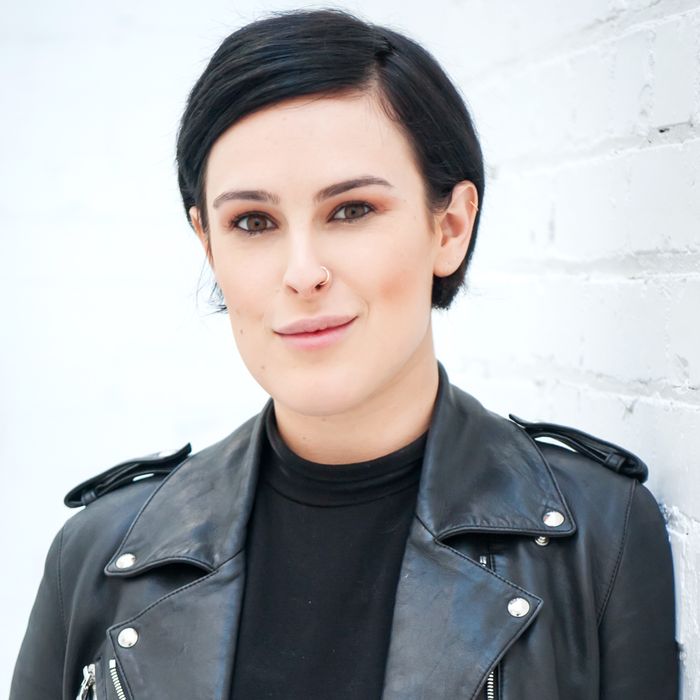 Rumer Willis.
Photo: Steve Lucero/BFA.com
In a recent Instagram post, Rumer Willis indirectly called out a Vanity Fair photographer for Photoshopping her jawline. She asked fans to take the photo down:
The photographer Photoshopped my face to make my jaw smaller and I find it really offensive for anyone to try and change the way you look so drastically. I love the way I look and I won't support anyone who would feel a need to change the way I look to make me beautiful. Whether or not they realize it, it is a form of bullying, which I won't stand for.
Willis didn't call out specific names, but the photo was an outtake from a shoot by Mark Williams and Sara Hirakawa for Vanity Fair's May issue. The Willis sisters were photographed for the magazine's 18-page spread of famous sisters like the Haim, McCartney, and Waterhouse siblings — all shot by various photographers.
Willis sits with her two younger sisters in a 1951 Chevy Fleetline in the allegedly Photoshopped image. Different photos of the Willis sisters from the Lancaster, California, shoot appear in the magazine's full feature and table of contents.
The actress has opened up about her struggles with body image in the past: On Dancing With the Stars last year, she revealed she once considered plastic surgery:
People would say I looked like a man or something called a 'buttaface', which means everything good but her face, or potato head was the big term that everyone used a lot, basically making fun of the way I looked … For years I thought 'Maybe I can get plastic surgery … If I change my face or get really skinny, that will be it, that will be the answer.' And it's not.
After her recent post, fans showed their support on Instagram and Twitter.
Lena Dunham, Kerry Washington, and Zendaya have all claimed similar Photoshop woes, and yet here we are.
Asked to comment, the photographers Mark Williams and Sara Hirakawa told the Cut:
The retouching that was done to the photograph was only done to resolve some distortion with using a wide angle lens for a group shot, and not to alter or modify anyone's face. We used a wide angle lens, and it might've made Rumer's chin look smaller from the higher angle that we shot the image.  We did correct for the optics of the lens slightly as people's heads get distorted through the wide angle lens.  We certainly did not intend to change the way she naturally looks. Our intention was to capture the special bond between Rumer and her sisters.

It saddens us that Rumer feels the way she does about the image and hope she understands that there was never any intention with it to alter her appearance.

We should make clear that this image was an outtake and was not published in Vanity Fair or vf.com nor did they ever see it.