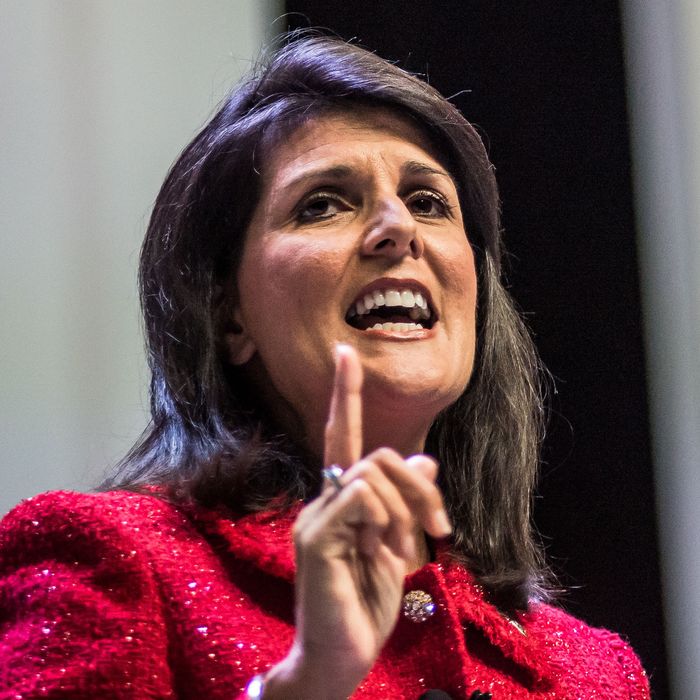 And here we are again, with "this week in restrictive repro-rights laws." Welcome back. I'm your host – an incredibly concerned citizen watching women's health care slide down a dangerous path designed by legislators. This week features Governor Nikki Haley of South Carolina, who just signed a ban on abortions at 20 weeks or later in her state, reports CBS News.
The bill passed on Tuesday, May 17, and states that a doctor who performs an abortion past 20 weeks will face felony charges and be fined up to $10,000. The action in South Carolina was closely followed by Oklahoma's totally garbage bill that criminalized all abortion in the state.
When the Republican governor signed the South Carolina bill, her state became the 13th in the U.S. with similar laws — joined by Oklahoma, Alabama, Arkansas, Indiana, Kansas, Louisiana, Mississippi, Nebraska, North Dakota, Texas, West Virginia, and Wisconsin.
There are only two exceptions to this bill. Rape and incest? Nope. Not there. The only reasons a South Carolina–based doctor could abort a fetus after 20 weeks is if the mother's life is in danger or if the fetus is determined to be unable to survive outside the womb.
According to Roe v. Wade, states can restrict abortions after viability — but the range listed is anywhere between 24 and 28 weeks. Researchers at the University of California, San Francisco, found in 2005 that fetuses likely can't feel pain until after the 28th week of pregnancy, or the third trimester, which is two months longer than the South Carolina bill's timeline.
The high court hasn't yet taken any action against these bills, but here's hoping their numbers don't keep climbing.