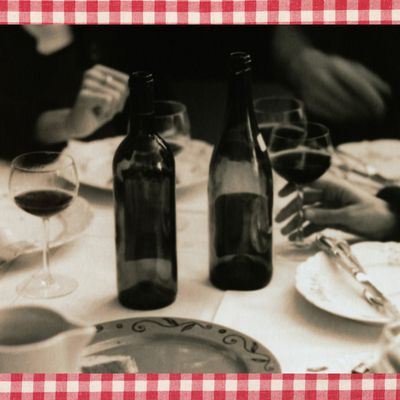 A weeklong series on the art of entertaining, for women who are too busy for Pinterest.
When you're the child of immigrants, you tend to feel like your family's version of Western traditions are mere pantomimes — a Target-brand take on designer holidays. Other people's Christmas trees come from farms; yours comes from its ratty box in the crawl space above the garage. Your mom never truly understands the importance of getting the Disney-brand Valentine's Day cards instead of the generic ones with no cartoons. Halloween costumes are always some variant of [Insert Your Race Here] Princess, and hey, look, you already have the perfect outfit.
But for us, Thanksgiving was different. It was the one holiday a year where we weren't just play-acting. Starting when I was 5, my parents began hosting a Thanksgiving dinner for our family friends. At the first one, the four of us and 12 more of the other kind of Indians sat around our formal dining table as my mom served up hot dish after hot dish. As the years went on, the size of Thanksgiving grew exponentially, a kids' table was added, and traditions began to form. Thanksgiving quickly became my standard-bearer for what a great dinner party should be — family and friends gathered around a table, not because they had to, but because they wanted to.
And it was with Thanksgiving in mind, many years later, that my best friend and I found ourselves elbow-deep in a vat of potentially poisoned chicken, trying and failing to explain the concept of Diwali to 15 hungry guests while concealing our advanced state of meltdown.
Hosting a dinner party is an inherently performative act, intended to showcase a set of skills you forgot to register for at Macy's. And the larger the holiday, the larger the performance, which isn't something Sanjana and I took into account when we decided to throw a dinner party on India's biggest holiday, Diwali, widely accepted as the start of the New Year. What we did take into account was that no one in our extended circle of Los Angeles friends had thrown a Diwali party since Mindy Kaling in 2005, and she had only RSVP'd "maybe" for ours anyway. Imbued with the type of confidence that can only come from utter inexperience, we were off to the races.
We started strong — a witty email invite, a modest guest list — but failed to do little else by way of planning, assuming that our tradition would create itself through sheer force of will. I'll admit it: I was chasing the high of Thanksgivings past. In recent years,  the tradition had diluted significantly from its late-'90s heyday. As the kids table grew up and grew apart, we'd all made new friends, ones I wanted to build my own rituals with.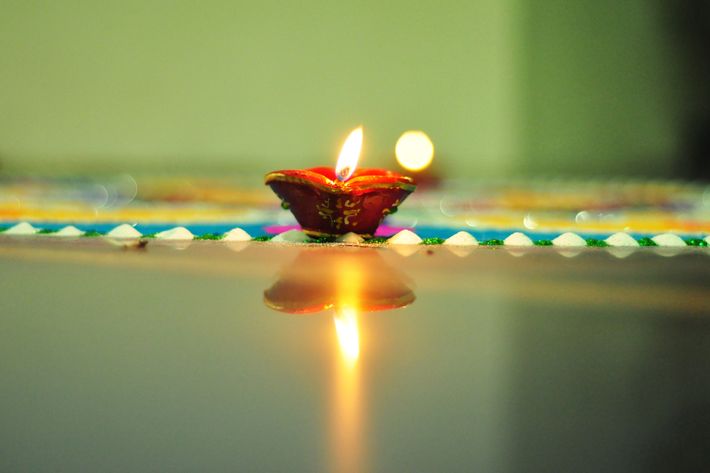 Foolishly forgoing any other real planning, we nailed down but one detail: the centerpiece of our meal would be Padma Auntie's chicken, a dish my mother had brought with her to California when my parents immigrated from Fort Wayne, Indiana. It had been a consistent crowd-pleaser growing up in my house. But even Padma Auntie was proving to be little help. The recipe my mother had re-created from memory offered delightful suggestions like "onions — lots!!" and "turmeric — some," but little by way of actual measurements.
In our final hours of panic the evening before, my older sister swooped in to right the ship, trimming our proposed menu (13 items, rolled out over five courses) to a rational amount (five items, copious liquor), picking out a layout and décor scheme, and slow-cooking all 15 pounds of chicken with what little time we gave her. And then she got food poisoning.
So I drove her to the ER, live-tweeted her hospital stay, and then put four hours into convincing my mom to leave the hospital and cook our side dishes instead. ("She's on an IV! It's barely a stomachache, it's fine.") We were just 45 minutes out from the moment our slowly simmering dinner was about to be fed to our unsuspecting friends when my sister casually mentioned,  "Maybe it was the chicken that got me sick, and not my soup … I ate some when I cooked it." We panicked. We turned the heat just a little higher on the gas range. We served it anyway.
And the party was … fine. In the end, the mismatched guest list cohered, the food was all served hot, and no one seemed to have caught on to the fact that the story of Diwali my mother told was colorful but wildly inaccurate. Still, it didn't live up to my Thanksgiving expectations. Rather than a room full of our nearest and dearest, we'd patched together a jumble of co-workers,  friends we knew would show up on a school night, and guys we were trying to date. They were all willing to eat the food and play the tepid card games that we brought out alongside dessert, but I can't imagine anyone climbed into the car afterward and exhaled, "Don't tell Mindy, but Beej and Sanj sure know how to throw a Diwali party." At least no one else wound up in the hospital — but that's still a low bar for a successful party.
Sanjana and I spent the next year quietly ruminating on the idea that maybe traditions are forged by better friends and happier hosts. And yet, when the holiday rolled around again, we Gchat-joked our way into hosting another dinner party, one whose guest list seemed to expand every time Sanjana would utter the word Diwali to me. It meant a little more to us that year; it wasn't just a chance to showcase our hostess skills and performative piety, but a way to share a meal with our friends while exposing them to a culture that meant a great deal to both of us.
That year, the menu was planned ahead, tables and chairs borrowed in advance, hand-drawn name cards placed carefully at every setting. Friends asked to bring friends, so we squeezed them in, breaking every residential fire code in the process.
My father told the Diwali story, and his rendition was much more accurate, although traditionally the narrative doesn't include a loud cross-room betting match about the Washington Wizards chances with my friend Zach. Everyone ate, everyone lingered, and by the end of it we were all so exhausted there was no time to measure where the night might one day fall on the yardstick of nostalgia.
A few years later, my sister's friend Carolyn pulled me aside at another Diwali dinner, the first one Sanjana and I hosted since I'd left Los Angeles for New York. It was the year we'd upgraded to printed invitations, and our largest dinner to date. An original attendee who stuck around through the food-poisoning incident, Carolyn had been a fixture at every Diwali since.
"I love coming to this dinner every year and it's really great to bring my boyfriend this time," she said. "It's such a nice way to catch up on how far everyone has come each year."
And then it hit me: Once we stopped trying to make a tradition, we'd somehow made a tradition.
I'd flown in from across the country. The attendee list continued to swell in size; as people added to their families, they also added to ours. Padma Auntie's chicken had become iconic. We'd still failed the only math problem Indians are bad at: calculating the time it takes two people to cook a 40-person dinner intended to be served well before midnight. But despite competing with the myriad other parties on a Halloween-weekend Saturday, everyone we invited had shown up.
And when Sanjana and I gave our toast, we realized this year no one needed an explainer on the meaning of Diwali. They all already knew, because Diwali dinner was now something we all shared.