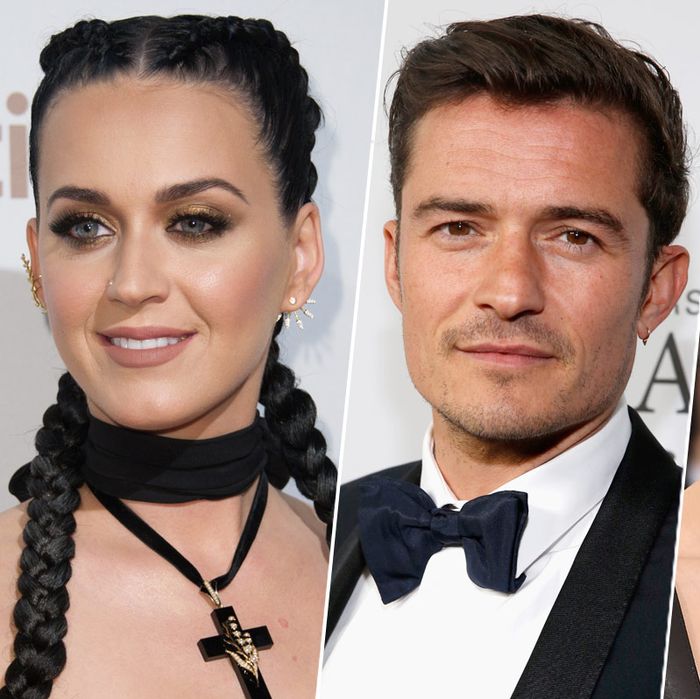 Katy, Orlando, Selena.
Photo: Getty Images
Let's cut to the chase: TMZ just published multiple photos of Selena Gomez snuggling with and potentially kissing Orlando Bloom at a Vegas nightclub. The two were linked before, back in 2014, when they were spotted sitting on a stoop shortly after Orlando divorced Miranda Kerr and Selena broke up with Justin Bieber (one of the times). Most relevant to today's news, however, is the fact that Orlando is currently dating Katy Perry. Somewhere in the middle distance, Taylor Swift smiles.
Per TMZ:
It went down Saturday night at Light in Mandalay Bay — Selena had the after-party for her Vegas concert there, and sources in the club tell us Orlando was a surprise, late addition to the party … and made a major impression when he got there.

We're told things got very "touchy feely" quickly before 23-year-old Selena and 39-year-old Orlando started neck-nuzzling and embracing in a booth.
You can see all the photos for yourself here. To complicate things even further, TMZ reports that Miranda Kerr was at Selena Gomez's concert that night. (She's currently dating Snapchat founder Evan Spiegel.)
Is Orlando Bloom the new Wilmer Valderrama? Something to think about.