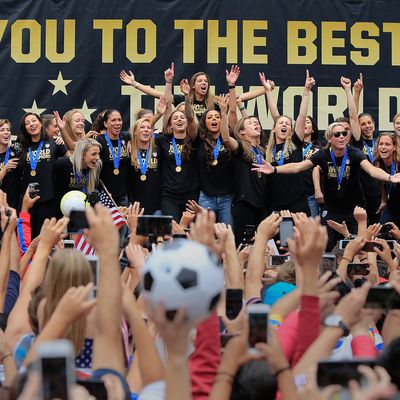 Photo: Allen J. Schaben/Los Angeles Times via Getty Images
Adding to their three historic World Cup wins, the U.S. Women's National Team earned the unanimous support of the U.S. Senate today in a non-binding resolution that calls on U.S. Soccer to investigate the issue of equal pay between the men's and women's teams. The Senate resolution comes after five members of the USWNT filed a complaint with the EEOC about unequal pay.
Today's resolution was introduced by 22 Democrats last month, and passed unanimously on Thursday. Its goal is to put pressure on U.S. Soccer to investigate whether the mens and womens national teams are paid fairly. Senator Patty Murray (D-Wash) took to the floor to explain why the Senate chose to get involved: "This isn't just about the money. It's also about the message it sends to women and girls across our country and the world. The pay gap between the men and women's national soccer teams is emblematic of what is happening all across our country."
She's certainly right about that.