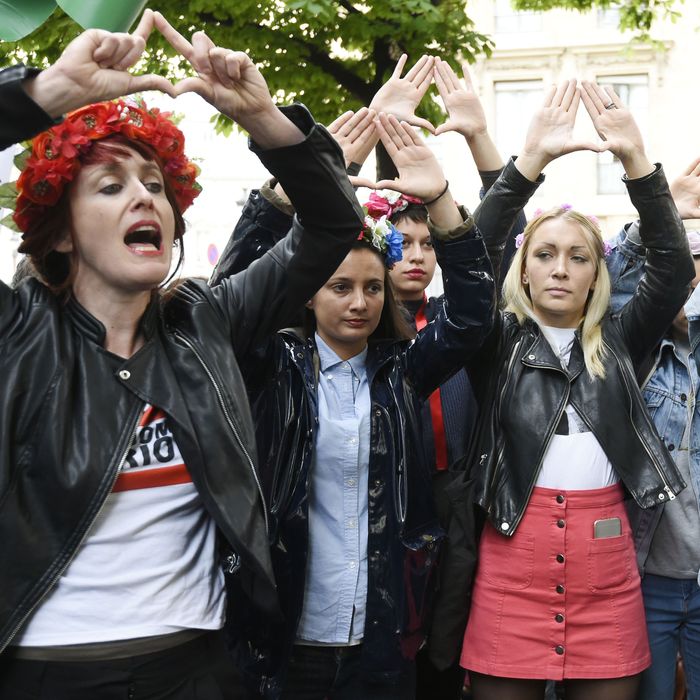 Protests in Paris.
Photo: DOMINIQUE FAGET/Getty Images
Oh, so you thought that this whole circus of sexism against female politicians was limited to just America? Did you think that Hillary Clinton and Megyn Kelly have been the only women on the receiving end of misogynist and gendered barbs in the political sphere? Please. Have you even heard about what's going on in France?
The AP reports that protests have erupted outside the parliament building in Paris on Wednesday after the release of a revealing book called L'Élysée off and new media reports on sexual harassment within government. France's finance minister Michel Sapin is accused in the book of "touching a journalist's underwear during the World Economic Forum." But he's not the only one, the AP says:
Paris prosecutors are investigating allegations of breast-grabbing and other behavior by green party politician Denis Baupin, who resigned as vice president of the lower house of parliament this week after investigative website Mediapart and France-Inter radio released testimony by women who say he abused them. He denies misconduct.
The latest allegations, including a BuzzFeed report that a top French minister was physically abusive of a female aide, have incited female politicians to take to radio interviews to say that they won't stand for this misconduct anymore. Geneviève Couraud, a former politician who is now the leader of Assembly of Women, a French group that wants to stymie violence against women, said that these specific incidents are not isolated, but the men who are guilty need to be called out. "These dirty guys are deforming human relations," she said. 
Huh. Sounds just like America.