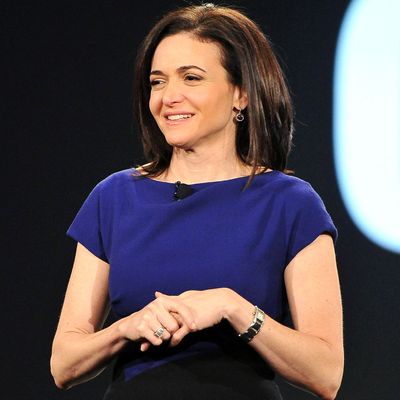 Sheryl Sandberg
Photo: Jerod Harris/Getty Images
Sheryl Sandberg has posted a long missive on Facebook — where she is COO — in celebration of Mother's Day.
Sandberg writes:
"This year I am thinking especially of the many mothers across the country and the world who are raising children on their own.
People become single parents for many reasons: loss of a partner, breakdown of a relationship, by choice. One year and five days ago I joined them."
When it was published in 2013, Sandberg's best-selling Lean In came under heavy criticism for not recognizing the challenges of a wide enough range of women, for dangerously eliding race and class. "If you were waiting for someone to lean in for child care legislation," wrote Susan Faludi in The Baffler, "keep holding your breath."
Sandberg's post this past Saturday marked not just Mother's Day, but also the year since she became a single parent — her husband, Dave Goldberg, died suddenly last year. And in some important ways, the post suggests a rethinking of some of Lean In.
She writes: "Before, I did not quite get it. I did not really get how hard it is to succeed at work when you are overwhelmed at home. I did not understand how often I would look at my son's or daughter's crying face and not know how to stop the tears." She is quite specific: "I think we all owe it to single mothers to recognize that the world does not make it easy for them, especially for those who struggle to make ends meet. Forty percent of families headed by a single mother in the United States live in poverty, compared to just 22 percent of families headed by a single father and 8 percent of married couple families. Single parent families headed by women of color face even more barriers: 46 percent of families headed by black and Hispanic single mothers live in poverty."
Sandberg goes on to remind her readers that the U.S. is the only developed nation in the world without paid leave, a fact that no one can really repeat enough. Sandberg's personal circumstances — the loss of her husband and partner in raising their children — have resulted in another powerful voice jumping on the bandwagon calling for greater support of all mothers, and parents, in the U.S.