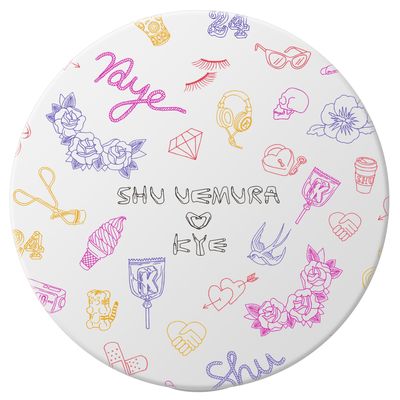 The Shu Uemura x Kye makeup collaboration.
Photo: Shu Uemura Kye/Masakazu Ikeda
I have a soft spot for cuteness, and among the things currently melting my heart are Justin Bieber's "Company" song, this Instagram video of an otter, and Shu Uemura's new collaboration with Kye, a capsule collection so adorable that it makes me want to scream "Eeeeee!" and clutch it to my chest.
Kye x Shu Uemura's schoolgirl-doodle packaging strikes right at my kawaii-loving heart. All of the products are decorated with etchings of soft-serve ice-cream cones, Band-Aids, swallows, and diamonds that wouldn't look out of place on a Rookie yearbook. I'm trying to grow up, but the heart wants what it wants.
Fortunately, both my heart and face also want what's inside the Kye packaging. Kye does its take on Korea's biggest trend last year with a cushion compact blush, a small compact containing a round, flat sponge that springforms a BB-cream-like texture blush onto your hand. The cushioned format delivers a pretty wash of color to your cheeks that requires literally three seconds of blending (I timed it).

Don't be afraid of the wildly sweet pink and coral tones of the blush range, which almost look like they'd be better suited for macarons than your face. The color actually blends out to be pretty sheer and gives you a subtle "I just did a breezy hike" kind of glow.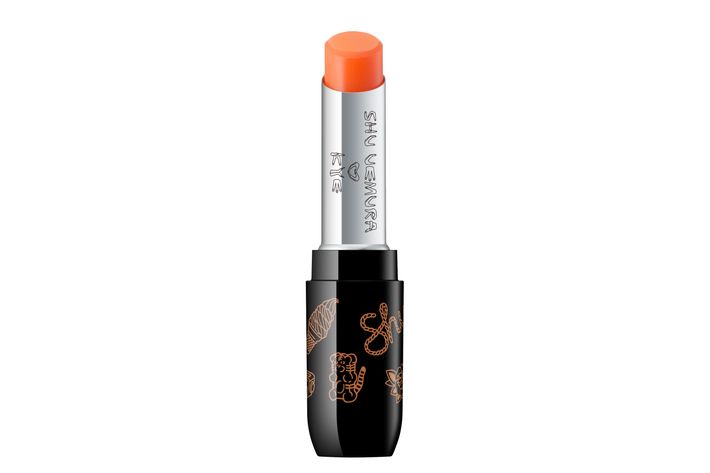 My favorite product of the collection is Kye's Sheer Color Balm, a fancy upgrade to Chapstick. It's got the shininess of a lip gloss without the gloppy, gluey texture, delivering Popsicle-like sheer color to the lips. Its closest beauty-product relative would be YSL's Volupte Shine Sheer Candy — if you like those, you'll like these.

As with the blushes, be brave and reach for a color you never thought you would wear, like the "melt in orange" shade. Despite being a perfect color match for a Creamsicle, it actually gives your lips a flushed, rosy-red tone.