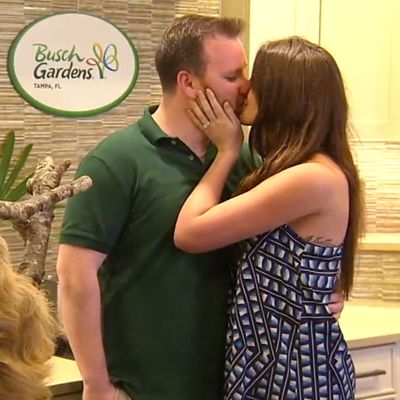 Harry the Sloth, Walter Mccann, and Carly Corvin
The sheer number of gimmicky proposals out there attempting to go viral are enough to make anyone want to throw their computer out the window, but finally one has come along to soften even the hardest of hearts.
Floridian Walter McCann brought girlfriend Carly Corvin to Busch Gardens for a special feeding session with her favorite animal, the universally beloved two-toed sloth. Busch Gardens apparently has a very famous sloth, Harry, who probably didn't ask for this life, but that's neither here nor there.
An employee brought over a tray of food to Corvin so she could feed Harry, but when the lid was lifted, it revealed "Will you marry me?" spelled out in vegetables.
Corvin was verklempt, McCann was pleased, and Harry did not give a shit at all.
"I told him before that if he proposed with a sloth, there was no way I could say 'no.' So, he took my good advice." Carly told Fox13.
When reached for comment, Harry the sloth said he didn't believe in monogamy but that he nonetheless wished the happy couple the best.