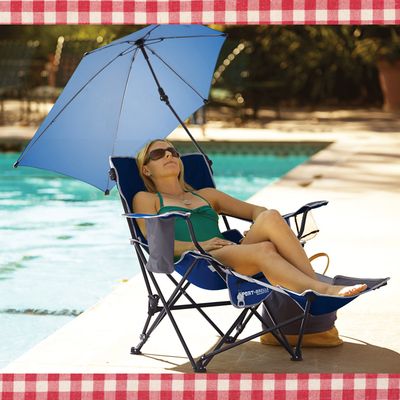 This is not me.
Photo: Courtesy of Sport-Brella
A weeklong series on the art of entertaining, for women who are too busy for Pinterest.
Let me tell you a wonderful secret, which begins with how I will not spend Saturdays in the park this summer.
I will not roam endlessly in search of a perfect swatch of shade, or sit upright on a rigid park bench, or cross my feet awkwardly atop a beach towel. I will recline gloriously in an unexpectedly sexy outdoor chair, which cools four beers in one armrest and holds a fifth beer in the other. I will reach for a bottle opener hanging at my feet, and read alone. I will repose underneath an adjustable, lopsided canopy umbrella that has better UV protection than my face makeup. This is the ugly, truly wonderful Sport-Brella Recliner, which is my Party for One Chair.
Created for tailgates, soccer parents, and overzealous family camping trips, this miracle of a chair comes in two uninspiring shades of polyester (midnight-blue or firebrick-red) and clicks back to two (two!) reclining positions (15 or 30 degrees). You can doze off under its detachable, bizarrely shaped umbrella, which is too flimsy for beachy gusts of wind but adjustable and actually good for your health: It tilts to various angles and attaches to either side of the chair (brilliantly engineered, customizable shade), and it's lined in a metallic undercoating with UPF 50-plus sun protection. At your left arm, there's a mesh cup holder and a pocket for your phone with an opening for earbud cords; at your right, an insulated cooler.
Stay with me, because this is the most important part: You cannot possibly be with anyone while sitting in this chair, unless they also own this chair. Most will assume this is because you will embarrass potential companions with such an unappealing summer accessory. The truth, though, is that this recliner will eclipse anyone else sitting pathetically beside you (on a beach towel, the grass, or even in an insignificant normal outdoor chair), while you repose like a god on a polyester throne made to hold at least five alcoholic drinks. You are your own island. I'm telling you: You need this chair.
Sport-Brella Recliner Chair, $59.99 at sport-brella.com or amazon.com