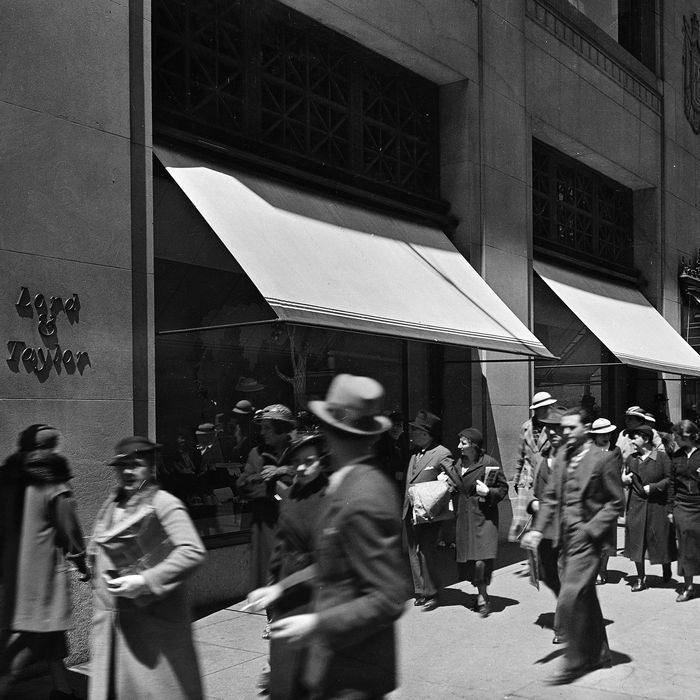 Lord & Taylor at 38th Street and Fifth Avenue on May 15, 1935.
Photo: MCNY/Gottscho-Schleisner/Getty Images
These are some of the stores that changed New York's retail psyche over the years.

1896 Siegel-Cooper
Store as class-blender. "People from the outer regions were able to come via the El," says Phyllis Magidson, a curator at the Museum of the City of New York. Also sold lion cubs.
1899 Bergdorf Goodman
Store as status. Where Elizabeth Taylor would supposedly place a last-minute, pre-Gstaad order for 200 mink earmuffs.
1914 Lord & Taylor (est. 1826)
Touted its new men's-only entrance: "[B]e shaved and manicured … and leave without passing through any of the departments where women's goods are sold."
1939 Bonwit Teller (est. 1898)
Pioneer of window display as art — though skittish at first. When Dalí was hired for "Night and Day" windows, lining a tub with lambskin for "Day" ("Night" was a buffalo skull with a bloody pigeon in its jaws), management covered up his lingerie-clad mannequins. Peeved, Dalí rearranged the display, crashing the tub through the glass.
1961 Century 21
European tourists forever in our debt.
1967 Charivari
"You're going to New York dressed like that?" read a Charivari billboard on the Queens side of the Midtown Tunnel. Patrick Bateman shopped there.
1971 Patricia Field
A young Beyoncé would come in with her mother. Laverne Cox got her start at the beauty counter. And Field (in part through Sex and the City) would bring downtown into Middle America's consciousness.
1976 Fiorucci
Margaux Hemingway bought gold boots. Klaus Nomi performed in the windows.
1982 Dapper Dan
Harlem's avant la lettre king of the hip-hop "knockups" (not "knockoffs"). Now brands like Gucci collaborate with GucciGhost, a graffiti artist known for tagging the G logo.
*This article appears in the May 16, 2016 issue of New York Magazine.