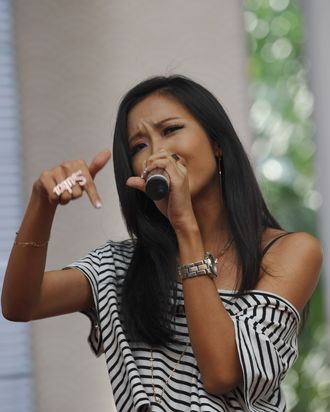 Suboi.
Photo: HOANG DINH NAM/AFP/Getty Images
As Barack Obama wrapped up (heh) his three-day trip to Vietnam on Wednesday, he spoke at a town-hall event in Ho Chi Minh City where Suboi, a former nu-metal performer who is now creeping to the top of the rap game, happened to be. Before Obama would answer Suboi's question about the importance of promoting arts and culture, he asked her to give him a little taste of her rapping. "In Vietnamese or English?" she asked. "In Vietnamese, of course! I won't know what it means, but … " Obama answered.
Obama attempted a little poor accompaniment to Suboi's raps (which were about rich people with big houses) but ultimately finds he's no match for her. "For Vietnamese people, they think rapping is not for women," she says, to which Obama replies, "That's true for people in the United States, too. There's always been sexism and gender stereotypes in the music industry just like in every other part of life."
Maybe Suboi could teach Obama a thing or two about beatboxing, too.