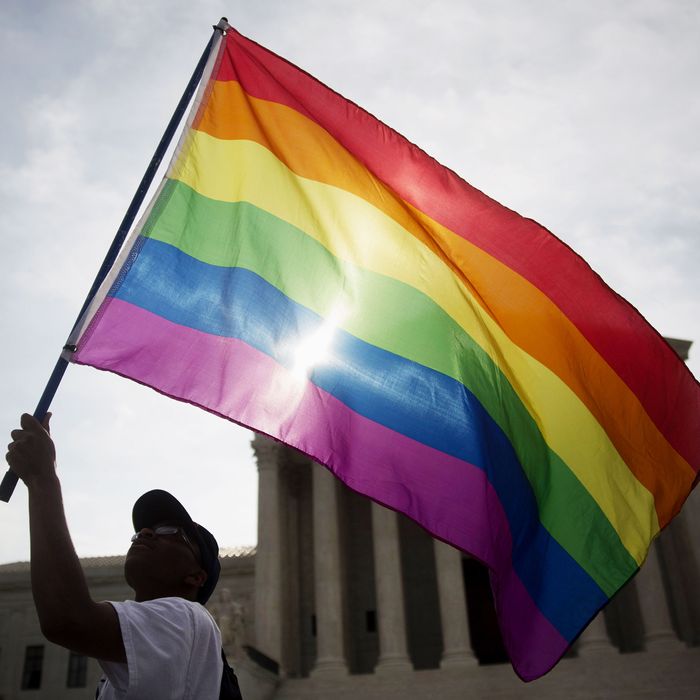 Photo: Andrew Harrer/Bloomberg Finance LP/Getty Images
America may have recently legalized same-sex marriage and same-sex adoption, but the debate over transexual bathroom use is just one indicator among many that LGBT rights still have a long way to go — and this is far from just a national problem. A new global survey conducted by International Lesbian, Gay, Bisexual, Trans and Intersex Association (ILGA) and research company RIWI in partnership with Logo* with finds that there's still a strong worldwide anti-gay bias.
The survey, which was conducted of 96,000 participants in 53 countries, found that two-thirds of people would be upset if their child told them they had feelings for someone of the same sex. Only 28 percent said they'd be okay with their son dressing like a woman.
When asked if being LGBTI (lesbian, gay, bisexual, transexual, or intersex) should be considered a crime, the following percentages agreed: 45 percent of respondents in Africa, 34 percent in Asia, 17 percent in Europe, 15 percent in the Americas, and 14 percent in Oceania.
Sadly, it still is criminalized in various countries around the world. Another ILGA report, titled "State-Sponsored Homophobia," found that homosexuality is still punishable by law in 75 U.N. states — and can be punished via the death penalty in 13.
As The Guardian reports, there is still a bit of good news: "A third of all respondents said that in the last five years their opinion on LGBTI people had become more favorable."

*This post has been corrected to show that Logo and RIWI conducted the survey in partnership with ILGA. A previous version of this post only included ILGA.