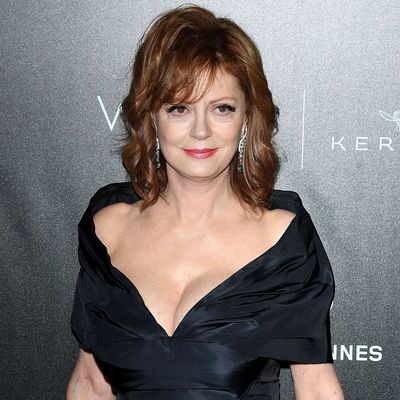 Susan Sarandon, aspiring porn director
Photo: Venturelli/Getty Images
In Susan Sarandon's latest quotable from Cannes, we learn that she's already got her post-acting career planned out.
The Times reports that she said the following when speaking about her history working with male directors during sex scenes:
I have threatened, in my 80s, to direct porn. I haven't watched enough to know what the problems are. Most pornography is brutal and doesn't look pleasurable from a female point of view. So I've been saying that when I no longer want to act, I want to do that.
Great, sure. But Sarandon should know that she'd be joining a growing cohort of female directors making porn pleasurable for women — and that, in some ways, the porn industry may even be ahead of the mainstream film industry when it comes to opportunities for female directors. Five women (out of 15 total nominees) were nominated for Best Director at this year's Adult Video News awards — by comparison, none have been nominated in the same category at the Oscars since 2010.
During her Cannes discussion Sarandon said, "A lot of people know what's in the middle. But what makes a sex act really interesting is how that first touch happens, how that first kiss comes." Many female porn directors are already doing that.
Take Bree Mills, who runs the all-woman studio Girlsway. Mills specializes in crafting elaborate, episodic story lines that culminate in sex that feels genuine. And she's hardly alone — earlier this year, the Cut published a short profile of Stormy Daniels, an incredibly prolific director who also stars in her full-length feature films.

On the bright side, Sarandon still has 11 years before she's an octogenarian — which is plenty of time to get caught up on her porn-viewing.