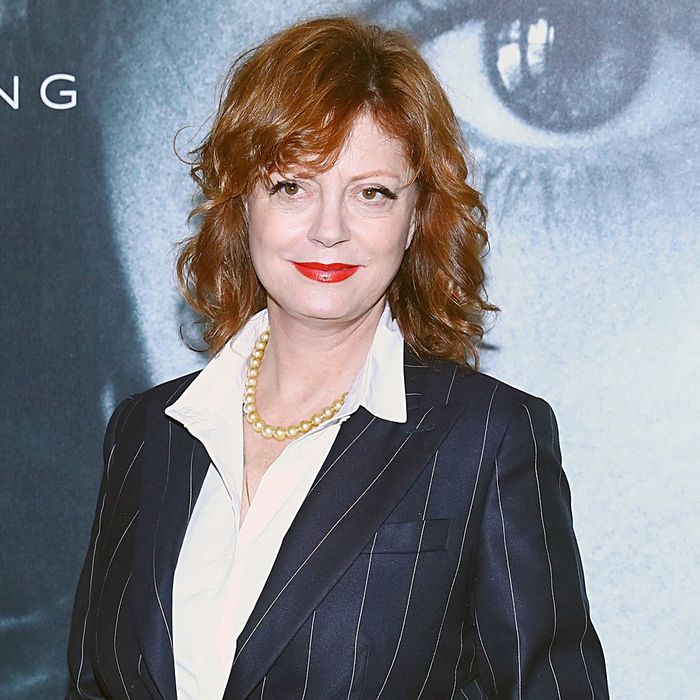 Come through, Susan.
Photo: Vittorio Zunino Celotto/Getty Images
Susan Sarandon, who remains totally fearless as well as fabulous, took a break from living her best life at Cannes to share her opinion on the whole Woody Allen/Cannes controversy.
Sarandon and her Thelma and Louise co-star Geena Davis were on hand to receive the Women in Motion award from the Cannes Film Festival and Kering when the seemingly unavoidable topic came up. Unlike the A-listers who don't care to comment and/or do care to continue to work with Allen, Sarandon didn't mince words.
"I think he sexually assaulted a child and I don't think that's right," she said, adding, "I don't want to go there."
Allen is at the festival with his latest film, Café Society, which stars a wide variety of famous white people, like Kristen Stewart, Jesse Eisenberg, Blake Lively, Corey Stoll, and Anna Camp. Earlier this week, Lively defended the aging auteur, telling the Los Angeles Times, "It's very dangerous to factor in things you don't know anything about. I could [only] know my experience. And my experience with Woody is he's empowering to women."
Who wouldn't pay at least $5 to see Sarandon give Lively a stern talking-to? All the funds could go directly to Sarandon's Feel the Bern campaign. Or buy a ticket to see The Meddler, which is fantastic.