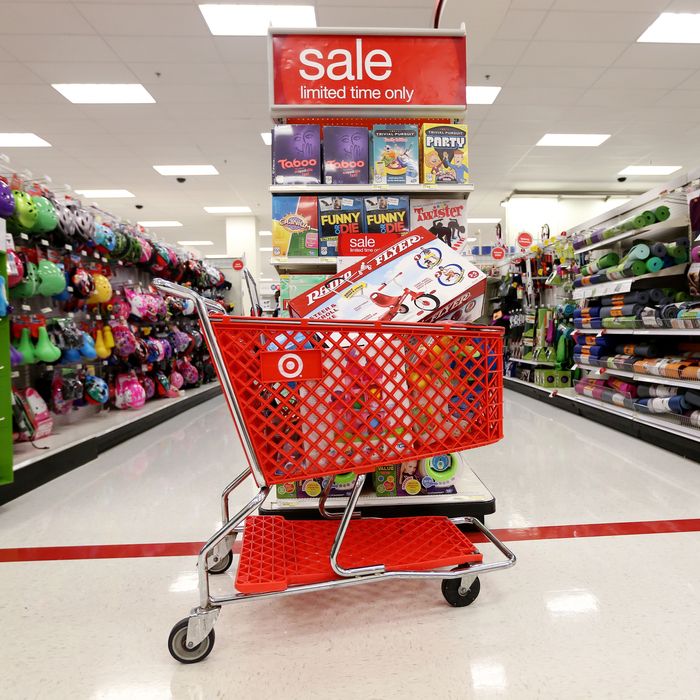 Target.
Photo: Joe Raedle/Getty Images
Two weeks ago, in support of equal rights, Target announced it would allow transgender people to use store bathrooms and fitting rooms that align with their gender identities. One day later, a Mississippi-based religious group launched an online petition to boycott Target, calling the measure (which was enacted in support of the federal Equality Act) "a danger to wives and daughters."
In two weeks, nearly 1.2 million families have signed the American Family Association's petition. Now, in an investigatory (deranged) move, the organization is sending men into women's restrooms. In an interview with the conservative website Breitbart News Daily on Monday, one of the group's directors explained why:
"I think there's no question that when you say that there are no barriers in the bathroom and that if men or women feel like they are men or women, the [opposite] of however they are equipped, and you have no restrictions, the net effect will be that people will not be stopped," Sandy Rios, the American Family Association's director of government affairs, said. "We've already had people testing this, going into Targets and men trying to go into bathrooms. There is absolutely no barrier."
There is no hard proof of AFA-affiliated men entering women's restrooms in Target, but a lot of men are recording plenty of YouTube videos.
Transgender people across the country are fighting back against the AFA's ignorance by posting selfies taken in public bathrooms under the hashtag #WeJustNeedtoPee. Caitlyn Jenner agrees.