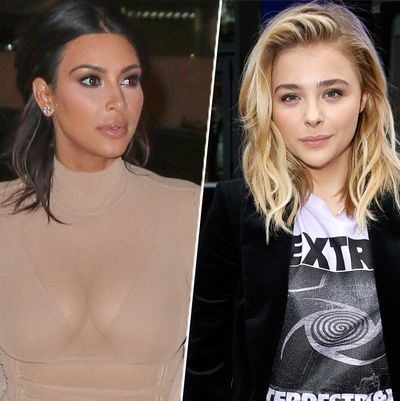 In our fun and fabulous democracy, every person is entitled to look at Kim Kardashian's latest nude selfie, develop an opinion about it, and then share that opinion on various social-media platforms. As such, we have now reached a point in the Kim-nudie-news cycle when one teen actress is feuding with another teen actress over the latter's response to Kim's response to her response to the nude selfie. How many times can a person type "nude selfie" before they get arrested? Let's get into it.
THE PLAYERS: Kim Kardashian (celebrity), Ariel Winter (teenage Modern Family actress), Chloë Grace Moretz (teenage umlaut)
THE ORIGINAL DRAMA: Kim Kardashian posted a nude selfie in March; in response, Chloë Grace Moretz tweeted some rude mumbo jumbo about how that was bad; Kim Kardashian then asked, publicly, who Chloë Grace Moretz was
YESTERDAY'S DRAMA: Chloë Grace Moretz gave an interview to Glamour in which she stood by her original critique and attempted to explain the difference between her bikini selfies and Kim's nude selfies ("a beautiful background")
TODAY'S DRAMA: Ariel Winter posted a pink, text-heavy response to Chloë's interview on Instagram and Twitter, because, she says, the people demanded it. "Many have asked about my opinion on a certain interview," she wrote. "All I'm going to say is this: If you take a photo in which you feel CONFIDENT about yourself and think it spreads a positive image, then GO FOR IT. The 'background' doesn't matter — what matters is the message you are putting out there is true to what YOU believe in — not what anyone else says about YOU."
IS EVERYTHING ALL RIGHT? Chloë has yet to issue a response to Ariel's response. Kim Kardashian is in Cuba.