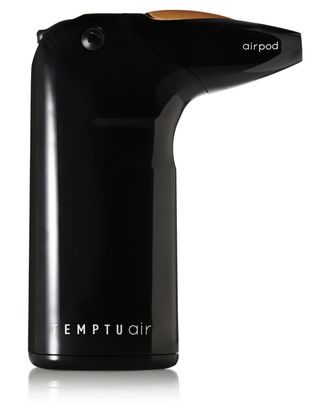 Temptu makes airbrushing makeup easy.
Photo: Courtesy of Temptu
I've always wanted my makeup to look airbrushed, but never tried airbrushing it myself. In my mind, airbrushed makeup involved lots of complicated pods, attachments, nozzles, and maybe a tent for your face? Who knows. But Temptu released a handheld airbrush device that makes makeup, period, the easiest thing ever. Insert a foundation pod into the device and turn it on to deliver what feels like a cool breeze of foundation to your face. Every time I use it, I marvel at how light, even, and smooth my foundation looks, and how fast the entire process is: I can spray my entire face in 30 seconds.
There are a few small downsides to the product. The pods and the device are sold separately. And the non–technologically intuitive person may want to visit a Temptu store to get a mini-tutorial. I couldn't figure out how to remove the foundation pod until someone told me to envision breaking a Kit Kat — an analogy I understood perfectly. It also takes some practice to learn how long to press the "go" button, and if you spray the device too close to your face, the foundation can build up and get oily (though that's easily remedied by blending with a brush). The device can also be used with the brand's bronzer, blush, and highlighter pods, but I like the foundation best.
Temptu Makeup Airbrush Device, $195