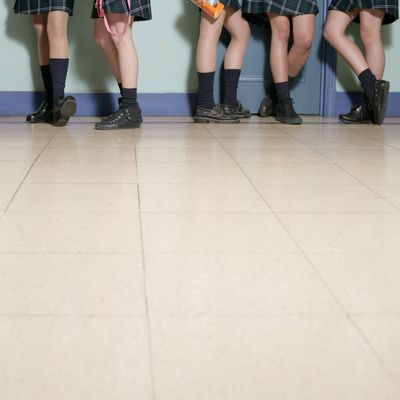 The Ripley Academy in Derbyshire, England, recently came under fire for organizing extracurricular "bikini body" classes for their students, who range in age from 11 to 18.
One anonymous parent told the Derbyshire Times, "Isn't it bad enough to have impressionable girls to already be worrying about the state of their bodies? I am all for healthy lifestyle but this is sexualising the fitness class." The school has since apologized and canceled the classes.
Aside from shoving body insecurity onto girls who may have not even hit puberty yet, "bikini body" is also a nonsensical term, initially used in advertising for a chain of weight loss salons back in 1961. (Get with the times — a caftan body is so hot right now.)
This all comes shortly after Discovery Girls magazine published a spread telling their readers — ages 8 to 12 — what bathing-suit cut is best for their figure. Women will spend their entire lives bombarded with messaging about how their bodies should look — can't we just let kids be kids first?