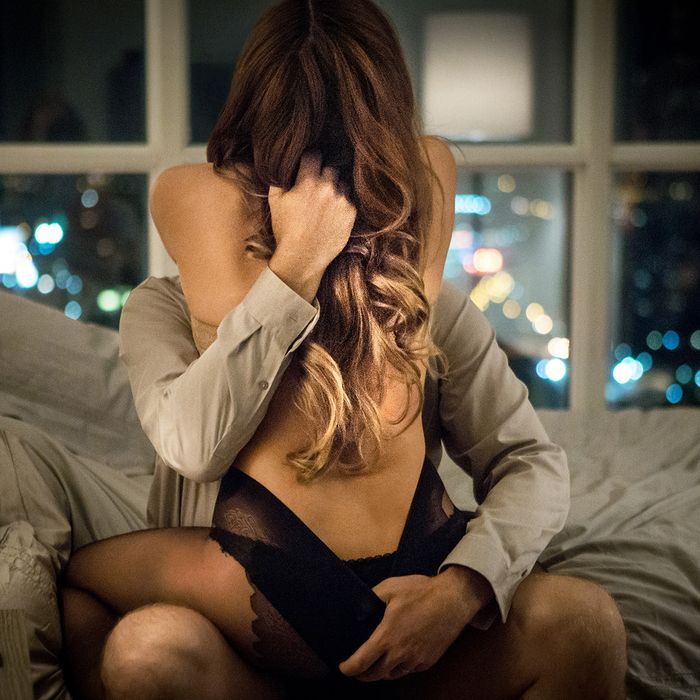 Riley Keough in The Girlfriend Experience
Photo: Kerry Hayes/Starz
What does a high-end call girl wear? 
(a) A bandage dress and stilettos.
(b) A bustier, miniskirt and thigh-high boots.
(c) A G-string, pasties, and platforms.
(d) A Theory skirt, J.Crew sweater vest, tights, and flats.
If you picked (d), then you've probably seen The Girlfriend Experience on Starz. No doubt most people binge-watch the show for the frequent, unapologetic sex, but I got hooked by the clothes and the hair.  
Christine Reade, a law student and intern played by Riley Keough, decides to become an escort in her free time. The directors, Amy Seimetz and Lodge Kerrigan, were so intent on avoiding the clichés of the genre that she looks nothing like what you'd expect. Yes, there's thrusting flesh, but there's also Comme des Garçons and Roland Mouret. And Theory.
The show's costume designer, Caroline Eselin-Schaefer, nails the working-girl wardrobe, and not in the wink-wink way. Reade is busy, busy, busy, and her clothes are "efficient and calculated so she could transition easily from the office to her other world," says Eselin-Schaefer.
During the day, Reade looks like the very pretty girl in the cubicle down the hall — and maybe that's the point.
Her office garb is all Banana Republic, J.Crew, and Theory, with trench coats and tops from Aritzia, and a Gap sweater, probably at 50 percent off. "We wanted her to be invisible at the law firm," says Eselin-Schaefer. "She could take off layers, add heels and a lip and be ready for the evening."
Reade the escort dresses almost like a fashion editor — the ones who sit in the front row and wear black or white Céline. "Clean and minimal was our idea," says Eselin-Schafer. "We didn't want to do plunging necklines or use any red, other than a burgundy lipstick." There's a white dress with a stiff side ruffle that looks like classic Alber Elbaz Lanvin, but is actually Maje. And the last episode is full of fashion love with a black lace Comme des Garçons top under a Hugo Boss suit with a long narrow skirt, and high-heeled mules that make her walk like a geisha. Reade wears a high-neck Azzedine Alaïa dress in a restaurant scene, "and it killed me that because she was sitting you never got to see the whole thing," says Eselin-Schafer.
Underneath all the fashion, you will not find G-strings, thongs, push-up bras, lace garters, or anything from the naughty section of Agent Provocateur. Eselin-Schafer calls the lingerie underwear. All of it is black, mostly bralets and panties. ("We like a full panty; we thought it was sexy.")
The hair had its own plotline, as the show's hairstylist, Franchie Pir, explains: "At the beginning, the character wears high ponytails to show her modesty and innocence. She has a French bun at the law firm to give her this focused, determined look." When Reade lets down her hair in the evening, I expected to hear harps. It's an abundant mass of awesomeness that would fit right in a shampoo ad. Sitting at various hotel bars, her hair is always parted on the side and plopped over one shoulder like a beautiful pelt.
This is not low-maintenance hair on an intern's paycheck. Pir lightened Keough's color all over, and made it lighter still at the ends. He applied a glaze and blow-dried it, flat ironed it to control the frizz and magnify the shine, and then curled it in fat whorls — in other words, Keough had to get to the set an hour before everyone else. Before each assignation, the actress gives her hair a good shake. It may be the sexiest moment in the show.
The promise of those early episodes — that a regular girl in J.Crew has a secret, sexy life — is delivered as the show goes on, but without any of the expected heat. The same goes for Christine's look, which becomes less accessibly sexy and more remote, slick. In the final episode, Christine is lying down, enduring a bikini wax, and her face is impassive one moment, wincing the next. It could be a commentary on her nighttime work, and it doesn't look titillating at all.