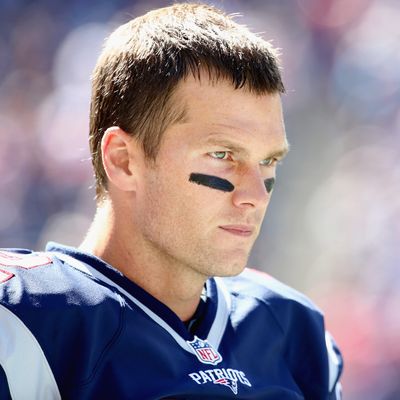 The Reader.
Photo: Maddie Meyer/Getty Images
The beautiful football man Tom Brady has a hobby. Can you guess what it is? Reading!
At "an event for the Beautyrest Black luxury mattress at the St. Regis hotel in New York City" last night, Brady revealed to People that he reads every day. "[The kids] always get a book before bed, sometimes two if they're nice to me!" the father of two said. "I love the Dr. Seuss books, because I love reading them! Shel Silverstein, Dr. Seuss … those are the ones that I love. I'm always like, 'Can I pick the book tonight?'"
Brady, who is married to Brazilian supermodel Gisele Bündchen, also likes to read in Portuguese (sort of). "We have a lot of Portuguese books in the house and those are … funny!" he told People. "My kids can [speak Portuguese], but I can't read it, so I probably screw up half the words."
Brady announced last week that he is publishing a cookbook (for $200). Based on the facts already presented in this article, my guess is he will read that, too.