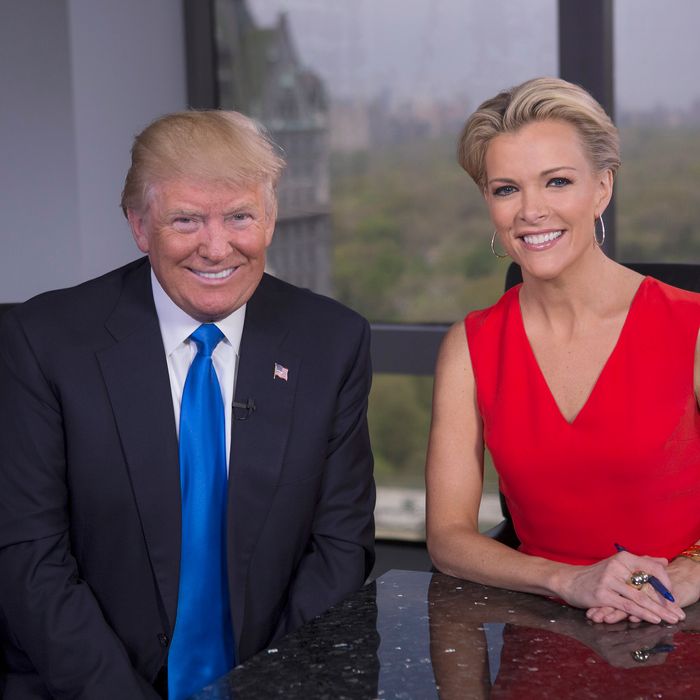 Donald Trump and Megyn Kelly. Photo: Eric Liebowitz/FOX via Getty Images
Photo: Photo: Eric Liebowitz/FOX via Getty Images
Here's some news: Online bullying might also go by the name "our little difficulty" — according to Donald Trump. During Megyn Kelly's exclusive Fox interview with the Donald at Trump Tower, he recalled their Twitter interactions from last summer and, well, doesn't seem to recall much. And then he sort of apologizes?
>
>
"You probably had some pretty nasty things sent your way. I don't want to say. I don't know that," he told Kelly in their first interaction in nine months. He went on to say that he doesn't retweet the "more nasty ones." Kelly pointed out the inaccuracy of that one:
Kelly: Bimbo?

Trump: There was a retweet, yeah. Did I say that?

Kelly: Many times.

Trump: Oooh. Excuse me.
Then he makes a really awkward, sheepish face — actions equivalent to excusing a brain fart, or a real one. Calling someone "a bimbo" isn't exactly the same as goofing her name or something. But, yes, excuse you.