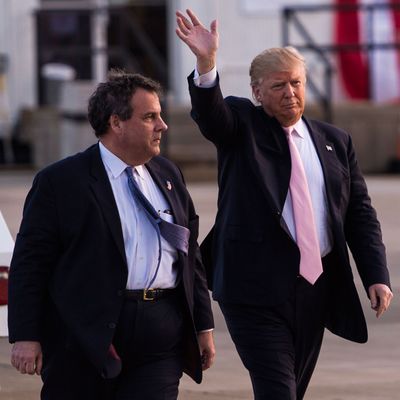 Oreo-haters Trump and Christie
Photo: The Washington Post/Getty Images
This is how fascism comes to America, not with jackboots and salutes, but with one extremely tan man dictating Oreo intake.
At a fundraiser to help Chris Christie pay off his campaign debt, storied fat-shamer Donald Trump declared that he's no longer eating Oreos, and the governor of New Jersey isn't allowed to, either. This bold anti-Oreo stance has become a common refrain in Trump's campaign ever since Nabisco outsourced some of its production to Mexico.
"I'm not eating Oreos anymore, you know that — but neither is Chris," Trump said. "You're not eating Oreos anymore. No more Oreos. For either of us, Chris. Don't feel bad."
As it turns out, if there's one thing Trump can't stand, it's delicious cream-filled chocolate cookies. During a January rally, he incited the crowds to begin chanting "No! More! Oreos!"
Good, more for me.