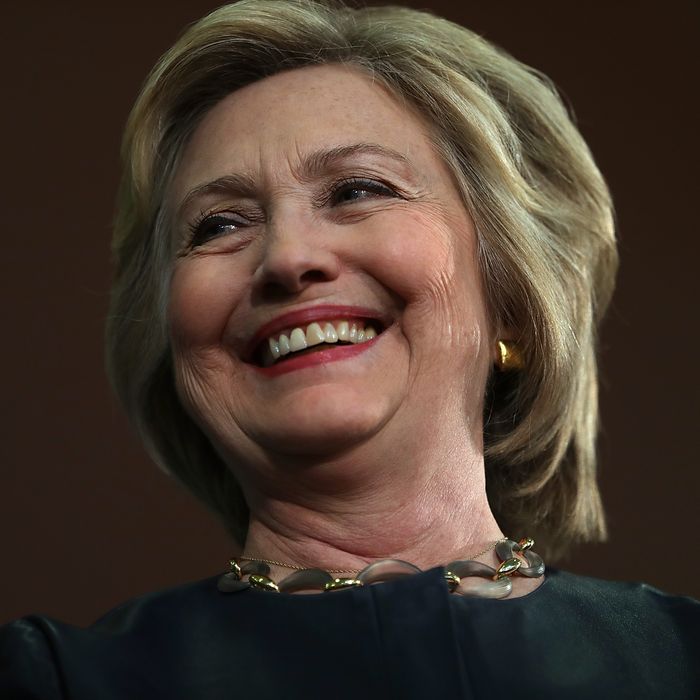 Photo: Justin Sullivan/2016 Getty Images
Donald Trump is all out of Republican opponents to bash, so he's turning his attention toward Hillary Clinton. After reassuring his supporters that the Democratic front-runner and likely nominee is only winning because she plays the "woman's card" and certainly not because she's an experienced and deftly competent politician, Trump debuted an attack ad in which he revisits one of his favorite subjects: her laugh.
The video, which has all the cinematic charm of Chucky, shows a clip from Clinton's infamous Benghazi speech followed by shots of the victims' family members saying Clinton lied to them about why the U.S. consulate in Libya was attacked. It ends with a clip of Clinton's laughing face superimposed over the burning wreckage of the consulate. Trump's Instagram caption (so on trend, Donald) reads, "Hillary has bad judgement!"
Trump's team has used the final shot before — in an ad that aired last November and featured multiple clips of Clinton laughing over headlines about everything from Benghazi to her private email server.
It's typical for Trump's ads to attack his opponents based on their one-off remarks or perceived character flaws, but in this case we'd bet the Republican nomination he has a Clinton laugh track playing on loop as he drifts off to sleep in Trump Tower. The man is obsessed.