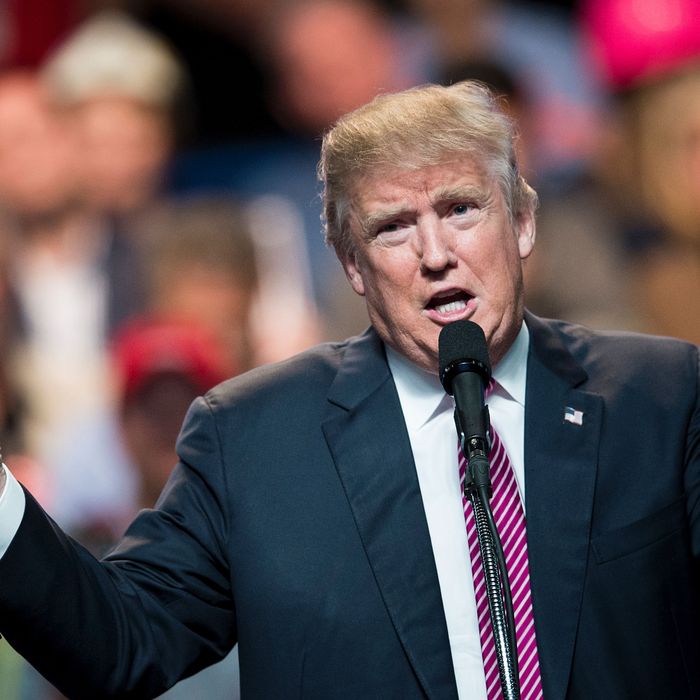 Trump was a great boyfriend, she swears.
Photo: Brendan Smialowski/AFP/Getty Images
"Donald J. Trump had barely met Rowanne Brewer Lane when he asked her to change out of her clothes." So begins the New York Times' exposé on Trump and women, for which more than 50 of the Donald's co-workers, ex-girlfriends, and pageant contestants were interviewed. Taken together, their stories illustrate a "complex, at times contradictory portrait" of Trump as someone who thinks women — whether he promotes them in his company or drops a snide hint that they should lose weight — are fundamentally different from men.
But on Monday, Brewer Lane, who was one of the Times' main sources, spoke out against the piece, saying reporters twisted her words. "They spun it to where it appeared negative," she said on Fox News. "I did not have a negative experience with Donald Trump."
Brewer Lane is referring to that one time in 1990 — as reported by the Times — when Trump had a pool party at Mar-a-Lago and "started talking to [her] and nobody else." He then took her by the hand, led her to a dressing room, opened drawers full of swimsuits, and asked her to put one on.
"I went into the bathroom and tried one on," she told the Times. It was a bikini. "I came out, and he said, 'Wow.' He brought me out to the pool and said, 'That is a stunning Trump girl, isn't it?'" At the time, Trump was almost 20 years older than Brewer Lane. The two went on to date for several months.
The Times interpreted Brewer Lane's account as "A debasing face-to-face encounter between Mr. Trump and a young woman he hardly knew." Which sounds accurate, except Brewer Lane told Fox that Trump "never made me feel like I was being demeaned in any way."
But Times reporters insist her anecdote speaks for itself, regardless of how they chose to frame it. In other words, no matter how Brewer Lane reacted to the situation, readers can decide for themselves how to feel about a middle-aged man meeting a 20-something model for the first time and immediately asking her to put on a swimsuit.