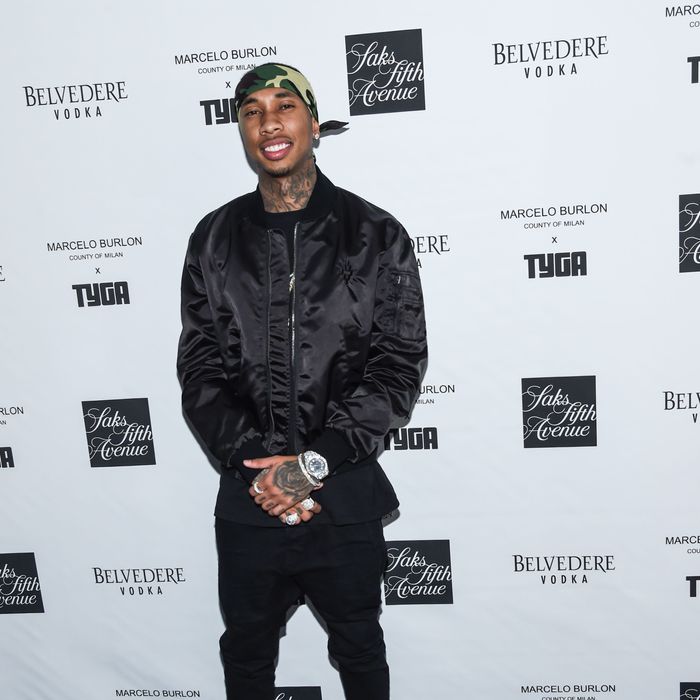 Tyga was exceedingly patient with a TMZ reporter.
Photo: Dave Kotinsky/2016 Getty Images
Sometimes you just want to pick up your luggage at LAX without talking about your most recent breakup, you know?
Tyga patiently humored a TMZ reporter who lobbed him some questions about his recent breakup with lip kit mogul Kylie Jenner and how he feels about his ex Blac Chyna moving on. The reporter pressed Tyga about whether or not the age difference caused the break-up, but the 26-year-old rapper didn't seem to think dating an 18-year-old woman could have been the cause of friction.
"I think we're just focused on our lives, our individual lives right now, you know? And sometimes things don't work out, but you know, I love her. So, you know," he said, looking like he wished he'd packed everything in his carry-on bag.
As for his ex Blac Chyna, the soon-to-be Angela Kardashian, he allowed, "People … grow, and you know, it's time to evolve, you know what I mean? So everybody should have the opportunity at love and to live their life." As Tyga stared at his phone, praying it would ring and save him, the reporter pressed on and asked him how he thought Rob Kardashian would be as a stepfather. (Tyga has a 3-year-old child with Blac Chyna.)
"Don't go too far," Tyga said. Fair enough!
Meanwhile, Kylie posted a Snapchat video of herself lip syncing Beyoncé's "Hold Up," the Lemonade track about cheating. You know, the one where Bey beats the crap out of stuff with a baseball bat? That one. She capped off her lip-syncing performance with "Losin' Control" by Russ and a snazzy zebra filter.