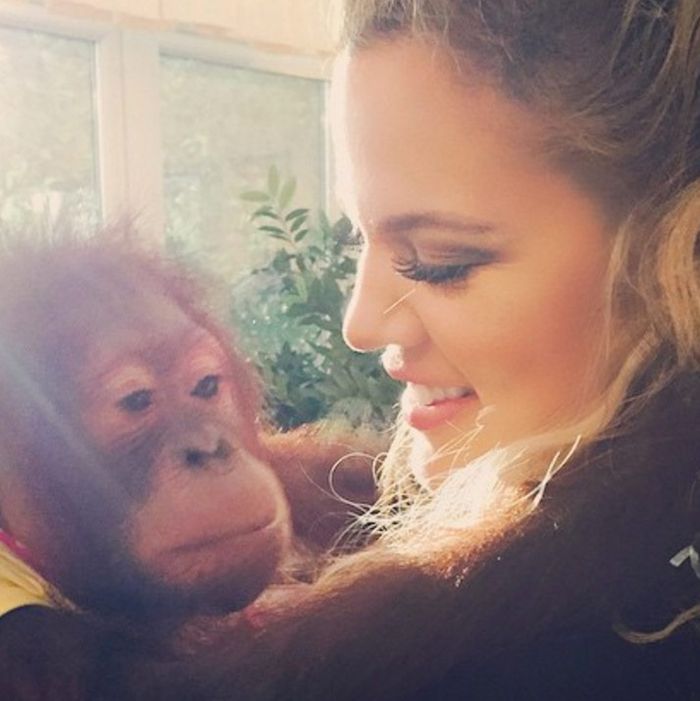 Paris and Khloe with Dior.
Photo: parishilton/Instagram, khloekardashian/Instagram
American celebrities are our nation's gift to the world, and as such, they should never be criticized. Unfortunately, the United Nations brought the hammer down on two of our favorites this morning: Khloe Kardashian and Paris Hilton. The stars have apparently angered the intergovernmental body by posting cute photos of orangutans that we love to see.
The U.N.'s Great Apes Survival Partnership (GRASP) told CNN this morning that when celebrities post photos of orangutans, it encourages animal trafficking. "Every time a famous face is seen cuddling an ape in this way, it undoes years of our work," GRASP coordinator Douglas Cress explained. "It lowers the value of the animal, and the public sense of conservation drops."
Both Kardashian and Hilton have posted photos with Dior, an orangutan who lives in a zoo in Dubai. Paris posted a video of her cuddling with Dior in 2014, in which she says, "This is baby Dior, and she's one years [sic] old, and she's the cutest little girl in the world."
Cress says that postings like these influence public perception and rob animals of their natural wildness, but damn, that's a good video.