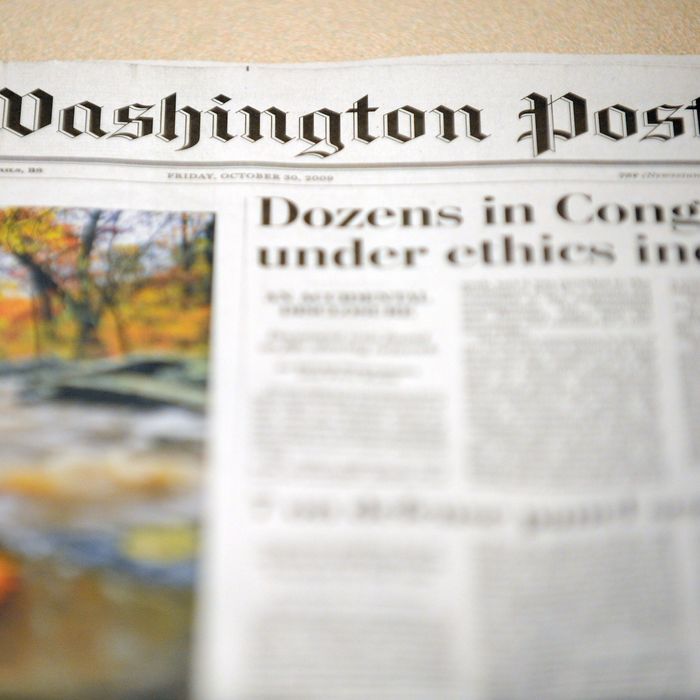 The Washington Post.
Photo: NICHOLAS KAMM/AFP/Getty Images
The last we left off with the gender pay gap, the New York Times was under fire after its employee union revealed a 7 percent pay gap between men and women with the same jobs, and a 10 percent gap for employees of color. Following suit this week is the Washington Post's union, which found that women make, on average, about 86 percent of what men make.
The Washington-Baltimore News Guild was approached by members asking to explore potential pay disparities between men and women and minorities. After contract negotiations for the 2014–15 year, the guild obtained salary information for every union-represented employee. This information was then turned over to a paid analyst who looked at jobs with at least five people in the role and found that men earned more than women in 8 out of 12 jobs that were analyzed. From today's bulletin:
Male reporters make, on average, $7,000 more. Male columnists make $23,000 more than women doing the same jobs. Male foreign correspondents make about $8,000 more. For producers, the disparity is about $4000. For photographers, it's about $6000. Even male editorial aides make $7000 more than their female counterparts.
Their findings didn't stop at gender: There are huge pay disparities in the way the Post pays nonwhite employees, too. "In 9 of the 12 job titles we looked at, white employees earned more (often significantly more) than their non-white colleagues," the bulletin notes. Assistant editors who identify as people of color make about 15 percent less than their white counterparts.
Exposing gender pay disparities has become a trend at major newspapers: The Wall Street Journal has done it, too, and a Glassdoor report from this year found that media has one of the biggest gender pay gaps of any industry. After information of the WSJ's pay gap was published, editor Gerard Baker pledged to close the gap "as a matter of urgency." A union rep has asked the Post to review the pay of every woman and person of color on staff, and Amanda Erickson, a member of the union's leadership committee told the Cut, "There's a lot of power in making these things public. It often leads to workplaces that are more equal."